Sony Interactive Entertainment is pleased to debut its latest spot devoted to PlayStation's game streaming service, PlayStation Now. This global campaign, launching on October 1, looks to present that, with only a few button pushes, hundreds of stories, characters, and worlds can be delivered directly to players homes.
PlayStation Now gives players access to hundreds of incredible games instantly. To capture this feeling of instant gratification PlayStation created an epic film showing iconic game characters sampling the 800+ games available through PlayStation Now.
The film begins with the call to action: showtime! Rapidly diving through the sky we see a cavalcade of gaming heroes, including Kratos, Scorpion, and Nathan Drake, crashing into the homes of players.
At the climax of the film we realise that the characters have been summoned through PlayStation's cloud game streaming service, PlayStation Now, and are ready to stand up, side-by-side with the PlayStation player and take on the challenges that lie ahead.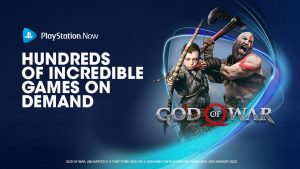 This global PlayStation Now campaign, the first campaign with our latest creative agency, adam&eveDDB, is now live.
"PlayStation Now is the first work to break in our new partnership with Eric [Lempel] and the team at PlayStation," said Matthew Goff, CEO of adam&eveDDB. "We have been working together on a number of projects across the summer and are excited to see them land with the gaming community over the next few months."
"Following PlayStation Now's expansion earlier this year, we have coverage for more than 70 percent of our global PS4 user base, making it the ideal time to revamp the service with a more compelling price and stronger content offering," said Jim Ryan, president and CEO of Sony Interactive Entertainment. "We have accumulated a wealth of knowledge in cloud gaming since PlayStation Now's launch in 2014. That, coupled with our 25-year legacy in the games business and strong partnerships we've forged with publishers, positions us to continue leading and innovating in this field as the gaming industry evolves."
Source: adam&eveDDB