Leading licensing agent Born Licensing launches its first ever creative campaign targeting UK ad industry. In a unique mash-up, the firm is deploying a crack team of well-known characters to challenge the can't-do attitude the industry has relating to the use of licensed characters in creative campaigns.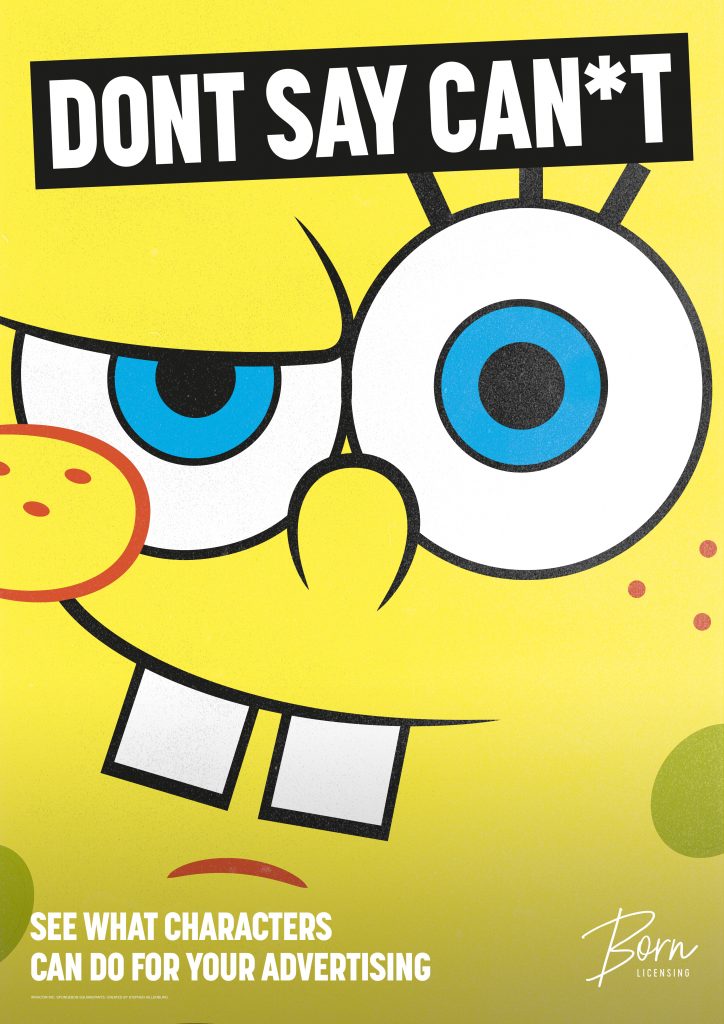 In an industry first, Born Licensing illustrates the engaging use of characters in ads, bringing together SpongeBob SquarePants, Grumpy Bear from the Care Bears, 90s icon Daria, a Ninja Turtle, Garfield, Beavis from Beavis and Butthead and Mr. Grumpy from Mr. Men Little Miss. The bold creative tells the industry 'Don't Say Can*t' and encourages adworld to explore the realms of possibility that come from licensing fictional characters to engage and connect with audiences.
The campaign comes a month after Born Licensing published their first ever white paper which addresses how fictional characters are under-utilised in advertising.
Born Licensing discovered that 85% of industry creatives believe that using film and TV characters more frequently would help their work to gain more attention. However, 100% of industry creatives had experienced campaigns where the IP did not go ahead due to preconceptions of licensed character use.
Original research from Born Licensing also showed that 38% of UK adults most like to see fictional characters in advertising – 78% more than celebrities or musicians, and 111% more than sports stars. Despite this, celebrities, musicians and sports stars are 13.4 times more likely to appear in UK ads than fictional characters [3].
The campaign has been created by creative duo Will Grave and Sander Vos with designs by Xavier Segers. The campaign has been running across digital channels from 26 April.
David Born, Founder of Born Licensing, comments, "There is so much potential to be explored with licensing fictional characters – their use really does make people sit up and take notice, especially in a B2B campaign. They're hugely and instantly recognisable, carry very positive associations to audiences, and their use is tremendously flexible – as shown with the success of the He Man and Skeletor ads for MoneySupermarket, and Robocop, Bumblebee and Donatello for Direct Line.
"When our research showed that most creatives would love to use them but consider the process too arduous, we knew that we had to do something to bust this myth. License holders are a lot more open to their characters being used in advertising than people think. We wanted to show the industry that they should see endless possibility when they think of character licensing, rather than perceived obstacles."
Will Grave added, "After 10 years in this industry, Sander and I have probably heard a 'thousand' cants in meetings over the years before an idea is even given the chance to flourish. This campaign is a challenge to this can't do attitude, delivered by an iconic cast of characters. It was a lot of fun to develop a tone of voice for them individually, one in keeping with their character too, especially 90s favourite 'Daria'. Having worked directly with Born Licensing, every step along the way they have been a creative client, willing to push the envelope and make good work. We're confident for the creatives out there who want to reboot some of their favourite characters in their ads, they will never say 'cant' to you."
Sander Vos added, "It's a unique challenge to design creative which is targeting other creatives. That's why we felt that this campaign needed something bold and impactful. Luckily we had the opportunity to deploy an all-star team of characters to deliver this. Through the use of cropping and bold typography we aimed to display these icons in a motivational and unexpected manner"
The campaign is supported by a Don't Say Can*t manifesto with a message from Born and all creatives, available at https://bornlicensing.com/dont-say-cant
CREDITS
CLIENT: Born Licensing
OWNER: David Born
SENIOR LICENSING EXECUTIVE: Amber Cheung
CREATIVE: Sander Vos, Will Grave
CREATIVE DESIGNER: Xavier Segers
Source: Born Licensing