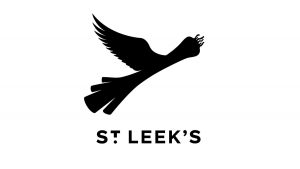 London based, independent creative and communications agency St. Luke's is supporting today's global climate strike by rebranding itself as St. Leek's. The new logo will appear on its website.
Neil Henderson, CEO of St. Luke's explains: "The only way to reverse climate change is to change what we do and one of the most significant changes is to reduce our meat consumption. So all St Luke's staff are going to give vegetarianism a go. To mark this, for one week, we have changed our logo to a flying leek and changed our name to St Leek's."
The new logo will be in place for one week from today 20 September 2019, and all 50 of "St. Leek's" staff have agreed to eat a meat-free diet for the next seven days.
Copy on its website and on social posts include statements:
We support the global climate strike. The environment is a cause we've held dear since our inception in 1995:
In 2000 we were the first ad agency to be 100% Carbon Neutral, and the 2nd company in the world
We created the world's first carbon neutral TV ad in 2004 with BT
We were the first agency to use wind powered electricity
We are ISO 14001 accredited 
For 12 years we have donated to Cool Earth, a charity which protects that world's most vulnerable rainforests
Today we take more action. One of the biggest things we can do as a population is to reduce our meat consumption. So this week, all St Lukers are embracing vegetarianism.  To mark this we're going the whole hog (so to speak) –  and turning our flying Ox logo to a magnificent flying vegetable and renaming ourselves St Leek's.
Source: St. Leek's