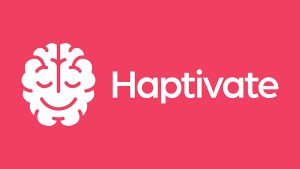 Haptivate, a happiness training start-up, is launching with an innovative brand identity and comprehensive business strategy by Straight Forward Design.
Recent research by the Global Wellness Institute shows that people are more concerned about their mental wellbeing than ever before and see it as an important part of general health maintenance (wellness industries grew by nearly 13% to £3.2 trillion from 2015 to 2017).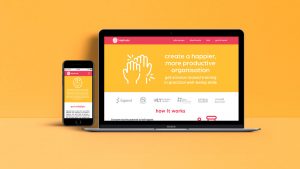 Haptivate co-founders, Rosa Connor and James Pacey, spotted a gap in the market for a more science-based mental-wellness format, so they devised a system of interactive workshops to help people explore inner contentment and sustained happiness based on the latest advances in cognitive neuroscience.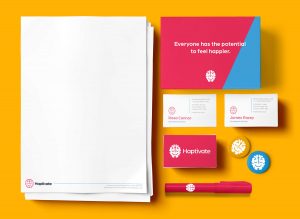 Haptivate (a portmanteau made up of happiness and activate) approached brand design agency Straight Forward Design and asked the team to devise a stand-out identity, business strategy and marketing collateral that would help them reach the right people and set them apart from the more 'homespun' or 'bohemian' offerings available.
To represent the Haptivate ethos, Straight Forward Design focused on the intersection between science and happiness.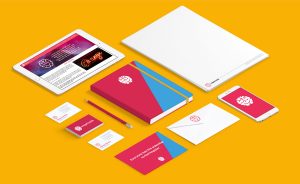 Mike Foster, Straight Forward Design's Founder and Creative Director, says: "The potential for mindfulness is what attracts people initially, but it's the science that gives Haptivate credibility. The solution is a 'smile in the mind' – a 'human' brain icon with closed eyes and a gentle smile that represents lasting contentment. Because that's what people need – inner peace not short-lived bursts of joy."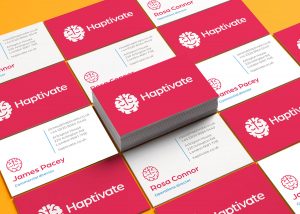 A soft coral and blue palette amplifies that messaging, conveying a sense of positivity and tranquillity. And the font, a grounding, open sans serif, ensures the word Haptivate is instantly legible and accessible.
Straight Forward Design was also tasked with addressing Hapitivate's market positioning. The existing website was trying to be all things to all people. Straight Forward Design realised that to succeed Haptivate needed to focus its attention on getting a bigger slice of businesses' employee training budgets – a particularly competitive area.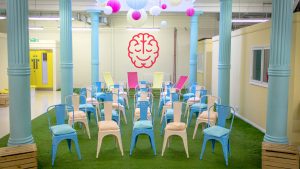 To achieve this, the design team worked with Haptivate to streamline its product portfolio, website and marketing materials, to make it easy for potential clients to find their way to the programmes most relevant to them.
Mike Foster says: "We devised the 'Haptivate 101' starter programme, where potential clients can have a taster of all the courses on offer, before drilling down to decide which theme suits their needs. This makes it much easier for HR professionals and directors to find the right programme for their employees."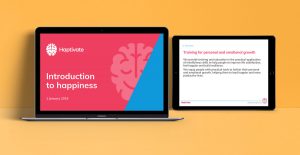 Rosa Connor says: "Straight Forward Design immersed themselves in all things Haptivate and were able to help us strike the right balance between approachability and seriousness. Our courses are all rooted in the latest scientific thinking, and we needed to communicate that without intimidating our audience. Our new website and workshop formats have given us a great platform from which to attract new business. The Fairtrade Foundation, Braze and the National Housing Federation are among the new clients that understand the value of what we do. And now we're perfectly placed to grow our brand even further."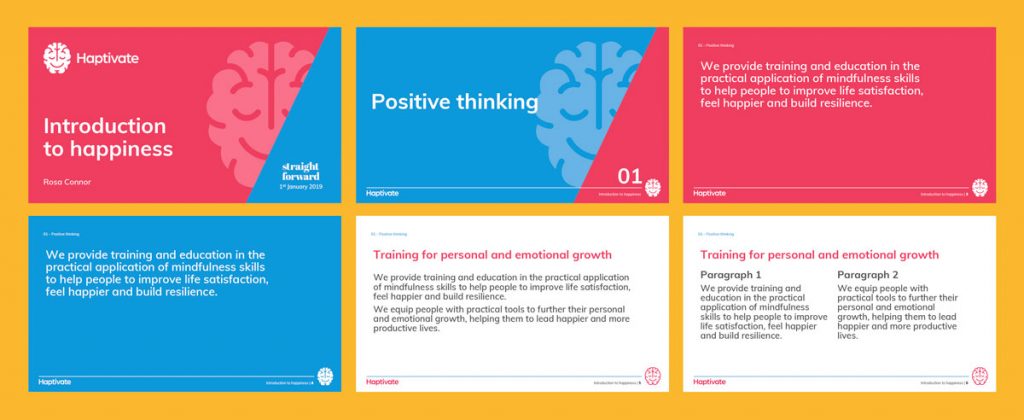 Source: Straight Forward Design