Outside of Parliament on Thursday 9th December, the Campaign to Ban Trophy Hunting unveiled a poster that will tour the country to put pressure on the government and MPs to pass a bill to ban importing hunting trophies.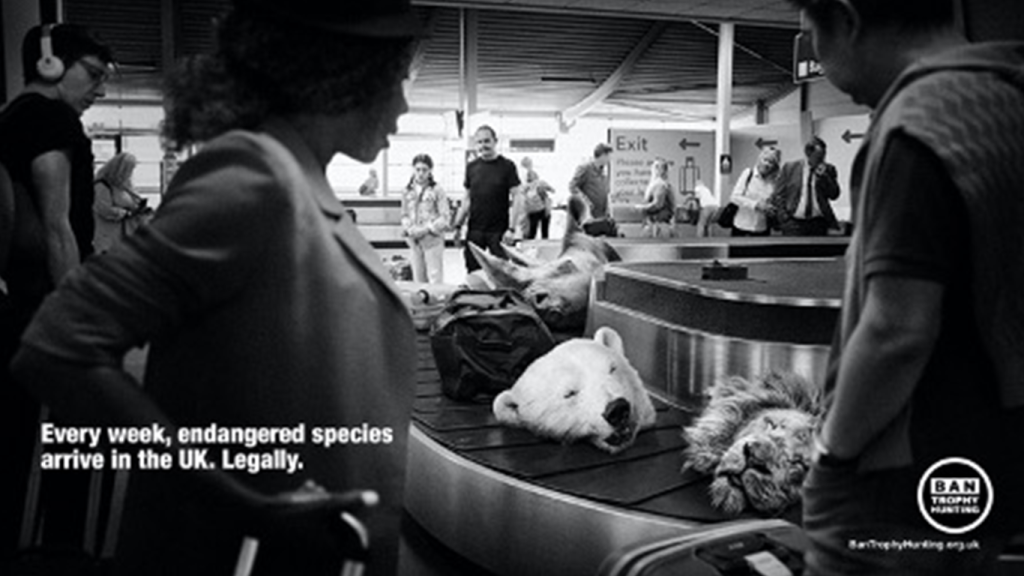 The poster shows the severed heads of a Polar Bear, a Lion and a Rhino, on an airport arrivals carousel with the line:
"Every week, endangered species arrive in the UK. Legally."  
The founder of the Campaign to Ban Trophy Hunting, Eduardo Goncalves, said "The British public are largely unaware that it is still legal for hunters to murder for fun and then bring back their trophies into the UK to hang on their walls.  When the public understands what is actually happening they are rightly shocked and appalled and support the ban in overwhelming numbers.  This poster is an incredibly powerful statement that we believe will help raise awareness of this disgusting behaviour and motivate the public to demand that their MPs pass a robust ban."  
The poster was developed by Creative Coalition and shot by Andy Glass. 
 "We wanted to place the unvarnished and uncomfortable truth in a familiar context that brings it close to home for everybody. Our job was to simply reveal the truth of what is happening.  Andy Glass and his team did a brilliant job of creating a really authentic magnum style reportage image that is both understated and incredibly powerful", commented Guy Moore, co-founder of Creative Coalition.
The launch was timed to coincide with the reading of John Spellar MP's Private Members Bill to ban trophy imports and was attended by cross-party MPs and Lords. Last week, Spellar challenged Boris Johnson at Prime Minister's Questions to support his bill. The government promised to ban trophies of endangered species in 2019, but a proposed bill has been repeatedly delayed.
Actor and animal rights campaigner Peter Egan, who attended the launch said, "We've just had the COP summit in Glasgow where politicians were discussing how to save wildlife such as Polar Bears that could go extinct as a result of climate change. Yet trophy hunters are still allowed to shoot Polar Bears and bring their bodies back to Britain. It's utter insanity. This is a bill that enjoys wide cross-party support, and is backed by 85% of voters. This Christmas, the government can give innocent wild animals the gift of life by throwing its support behind this bill."
For further information please contact Pete Bracegirdle, co-founder of Creative Coalition, on 07885 472607
Credits:
Eduardo Goncalves – Founder – The Campaign to Ban Trophy Hunting
Guy Moore and Pete Bracegirdle – Co-Founders – Creative Coalition
Andy Glass – Photography
Source: Creative Coalition