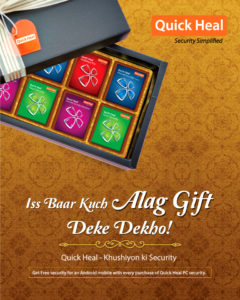 In line with its vision to secure Digital India, leading cyber security solutions brand, Quick Heal, has launched 'Khushiyon Ki Security' campaign with the objective of encouraging consumers to gift security software to their loved ones, ensuring safety and security of their digital journey. Through this campaign, Quick Heal will spread the message 'Is Baar Kuch Alag Gift Deke Dekho' which aims at creating awareness around cybersecurity and empower consumers to send festive greetings to their families and friends in the form of a security software.
According to the Quarterly Threat Report by Quick Heal Security Labs, over 2.3 million ransomware infections surfaced on Windows in Q2 2017. In such a scenario where digital threats are rising, it is important to have a robust security solution in place to ensure safety and security of your devices. Keeping this in mind, Quick Heal has launched 'Khushiyon Ki Security' which will help in creating awareness around digital security while empowering consumers with a unique gifting option. As part of the distribution strategy of the campaign, the brand will leverage digital and social media platforms to reach out to the Target Audience. It will also run radio advertisements in more than 20 cities to create awareness.
With this unique campaign, Quick Heal is offering bouquet of products like Quick Heal Total Security, Quick Heal AV Pro, Quick Heal Internet Essentials and Quick Heal Internet Security. With every purchase, Quick Heal is offering a free mobile security solution to the buyer. The products will be available across Quick Heal's over 20,000 strong channel partner networks across the country, on its website and e-commerce platforms.
Commenting on the special announcement, Vijay Mhaskar, Chief Operating Officer, Quick Heal Technologies Limited said, "At Quick Heal Technologies, we believe in providing best in class experience to our consumers. As the use of Internet becomes part of our daily lives, we feel there's lot more to be done to make the masses aware on the importance of digital security. During the festive season, people often convey their blessings and greetings to their loved ones in the form of gifts. 'Khushiyon Ki Security' is a unique campaign which will add to the festive fervor and give consumers an opportunity to send greetings to their loved ones in the form of a security software."
The campaign has been developed and executed by Guava Creative Solutions Pvt. Ltd., Quick Heal Technologies' communications partner. "The team at Guava is absolutely enthused at this unusual proposition of gifting a cyber security solution. After extensive consumer research, we found out that users want to gift something unique to their loved ones on festivals like Diwali, but they do not have many options to choose from. We then worked closely with the team at Quick Heal to come up with the campaign 'Khushiyon Ki Security' which not only will create awareness about cyberthreats but will also make cybersecurity solution a cool gifting option," said Komal Angane, Senior Account Manager and Quick Heal's brand custodian at Guava.

Source: Quick Heal Technologies Limited