Tic Tac is launching a £1.5m campaign featuring a brand new TV creative and positioning, encouraging people to take on new experiences and 'Open Up'. For the first time in five years, Tic Tac Core (Fresh Mint, Lime & Orange, Strawberry Fields, and Mint Rush) is hitting the UK's screens on 7th May and running until mid-June. The multi-touchpoint campaign will span TV, experiential, video-on-demand, digital and in-store media.
With the tagline – 'Open Up' – the light-hearted 30 second creative by krow, opens with a man and a woman sitting at opposite sides of a bench, in a busy park. As the man reaches for his packet of Tic Tac, the world freezes and Mr Tic Tac strolls onto the scene. An upbeat and optimistic character, Mr Tic Tac's aim is to encourage people to spark fresh connections, by being a little more sociable and 'opening up with the sweet taste of Tic Tac'. The tongue in cheek advert closes with the man offering the woman a Tic Tac and the narrator saying: "It's time to open up."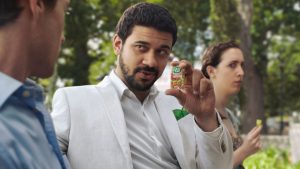 Levi Boorer, Customer Development Director at Ferrero UK and Ireland, comments: "Tic Tac is a fun brand, which has a very loyal audience of happy optimists. Our new advertising campaign, which is the first on the core brand in five years, is a great reminder of the fun personality that the brand has, brought to life in a great character. The campaign really helps us to relate to our target market: anyone that is open to new opportunities. It's the little gestures in life, like offering a Tic Tac, that enable those first connections between people, creating new experiences and friendships."
In addition, this summer, Tic Tac is creating an experiential pop-up in London, showcasing the brand's iconic flavours with an immersive event – further details will be released in due course.
Sugar confectionery is an important impulse sales opportunity for retailers, with 2.9m GB households buying into the category in 2017.
"The new campaign will refresh the brand, helping put Tic Tac brand front of mind with shoppers; retailers can capitalise on this by stocking the core range and supporting it with Point of Sale, which can be downloaded from our trade website," concludes Boorer.
Source: krow