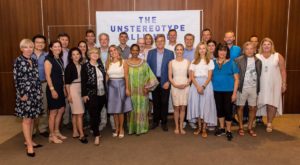 Phumzile Mlambo-Ngcuka, Executive Director of UN Women and Under- Secretary-General of the United Nations, joined industry leaders at the 64th Cannes Lions Festival of Creativity, where she called on the industry to strengthen their commitment to gender equality and collectively eliminate gender stereotypes in advertising.
Ms. Mlambo-Ngcuka who heads the United Nations organization mandated to advance women's empowerment and gender equality, intends to spur action for a more progressive portrayal of women and recognize industry champions mobilizing for change.
"The global advertising industry brings a sophisticated science of influence, finely honed creativity and deep pockets to shaping audiences' choices of products and services. A by-product of this powerful process has been the shaping or reinforcing of negative stereotypes of both women and men. These persistent images feed into cultural norms and are a serious barrier for gender equality. We need to recognize and change them", she said. "I call on leaders in the industry to reflect critically on the role they play in this, examine their portfolios with this specifically in view, collectively establish metrics and together, drive change" she added, signaling the central role of businesses and their leaders' responsibilities in shaping modern societies.
With the initial support of industry leaders such as Unilever, P&G, WPP, Johnson & Johnson and AT&T, and the commitment of dozens of industry leaders to engage, UN Women is galvanizing collective action to accelerate change and scale up individual initiatives to a true, transformative movement for the industry with a view to alter perceptions in advertising and drive cultural change.
Attitudinal change toward gender equality has been identified as a key driver of progress for societies around the world. The report of the UN Secretary-General's High Level Panel on Women's Economic Empowerment, released in March 2017, identified "Breaking stereotypes: Tackling adverse social norms and promoting positive role models" as the first of 7 drivers of change to increase women's economic participation worldwide. A 2016 McKinsey Global Institute report on gender parity revealed that an equal share of women in the global labour market could increase global GDP by as much as 28 trillion USD annually. Despite this, efforts to affect such change are still limited and under-resourced.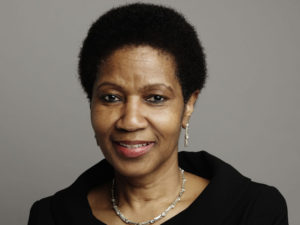 UN Women-led collaborative initiatives announced in Cannes include the convening of key players in advertising for the inaugural session of the Unstereotype Alliance — co-convened with Unilever on Thursday June 22 in Cannes — to proactively address and eliminate stereotypes in advertising globally as well as the first Tracking Study on Gender Equality Attitudes, to be conducted by UN Women with support from WPP on a biennial basis and sponsored by P&G, AT&T, Johnson & Johnson and Unilever and a growing list of other companies.
"We need to gather firm data on attitudes towards gender equality within the industry", said Ms. Mlambo-Ngcuka. "This evidence will fuel political will and financial muscle for change. UN Women is very pleased to partner with leading players in advertising both for the Tracking Study on Gender Equality Attitudes and the Unstereotype Alliance", she continued.  "The study will provide the insights necessary to inform corrective action, for instance through policy and education, but also through adjustments in the portrayal of both women and men in advertising itself. This is where the Alliance comes in, so that the findings of the survey can reinforce and motivate additional industry efforts."
Keith Weed, Global Chief Marketing and Communications Officer, Unilever, said: "The Unstereotype Alliance is our path to a global ambition, not just for Unilever brands, but for the larger industry to advance advertising away from stereotypical representations of gender. We believe cross-sector collaboration will lead to sustained transformation which is why we are proud to co-convene the Unstereotype Alliance as a crucial step in putting this into action. Supported further by the Gender Equality Attitude survey, we are building the tools to Unstereotype advertising that is good for society and good for business. Our job isn't done until we no longer see an ad that diminishes or limits the role of women and men in society."
Joint sponsor of the Tracking Study on Gender Equality Attitudes and key industry leader to be present at the inaugural session of the Unstereotype Alliance, Marc Pritchard, Chief Brand Officer at P&G said: "We all have a commitment to a common brief – use our voices in advertising and media to promote gender equality – because when we do, all boats rise.  Our brands and businesses grow, society is better, and we all benefit.  We will continue to be fiercely competitive – on the basis of creativity – but we're all united in being responsible for the common good."
"Johnson & Johnson understands that when women are given the chance to lead, they will fuel the future of human health. We are committed to advocating for advertising norms that reflect our belief in the power of all women," said Alison Lewis, Chief Marketing Officer, Johnson & Johnson. "The Gender Equality Tracking Study will help us further understand the challenges women face and allow us to better partner with other industry leaders to drive change."
WPP has been a UN Women partner as part of the Common Ground initiative that engages the world's leading advertising and marketing services groups to achieve the Sustainable Development Goals, a global blueprint for people and planet. WPP company Kantar has worked with UN Women to conceive the Tracking Study on Gender Equality Attitudes that will provide urgently needed data to underpin action on norms, attitudes and stereotypes.
"When we launched Common Ground last year, one of our ambitions was to see other industries unite in support of the Sustainable Development Goals," says Sir Martin Sorrell, WPP CEO. "Both of these initiatives, the Unstereotype Alliance and the Tracking Study on Gender Equality Attitudes, are powerful examples of what we can achieve when we set aside our competitive differences. We are delighted to support each of them, and to reinforce our commitment to doing our part in tackling gender stereotyping and inequality."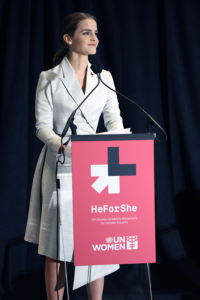 "The lack of gender equality in advertising is a long-standing issue," said AT&T Chief Brand Officer Fiona Carter. "But I believe we are at the forefront of a real change – this alliance and study are evidence. When the biggest brands join together, we can make a breakthrough."
UN Women works consistently to disrupt stereotypes and engage diverse constituencies on gender equality, such as men and boys, including with its HeforShe campaign, as well as youth and faith-based leaders. The organization has carried out important research focusing particularly on men, such as a recent study undertaken by UN Women and its partner Promundo on men's attitudes in four countries in the Middle East and North Africa.
The study found that while unequal attitudes dominate, a significant minority support some forms of equality between men and women, especially if they saw their fathers doing the same. The research revealed more than a quarter of all men surveyed think that women should tolerate violence to hold the family together; 29 percent of respondents wanted to see more women in positions of political decision-making.
UN Women also works with partners to address stereotypes and harmful attitudes at an early age, for instance in addressing violence against girls together with the World Association of Girl Guides and Girl Scouts, and looks at the world of sports as a major partner in this area as well.
Source: UN Women