United Airlines release a new ad 'World Orchestra' which demonstrates their global reach with an ambitious application of music from cultures around the world. Finger Music NY were brought on board to coordinate the impressive orchestral feat.
From Houston to Mumbai, Chicago to Honolulu, Lisbon to Tokyo, Munich to San Francisco, the 30-second spot draws on local musical influences, in each culture, to play the famous music that has become United's trademark.
To produce a piece with so many different moving parts, visual and sonic, Creative Director and Music Consultant at Finger Music, Dave Hodge, was brought into the creative process for the ad early on. To ensure each element of the film was in perfect synchronisation with the iconic track, musical details had to be carefully considered from start to finish.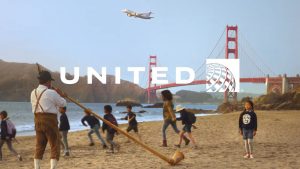 "We had seven world instrument specialists, plus an orchestra, different instruments from different cultures, and seven scenes to coordinate. To make this sound like one fluid piece of music, we had to be on set to ensure that the sync between the actors' movements playing the music work seamlessly with exact fluid camera moves at precisely the right time," explains Finger Music's Dave Hodge.
An extensive pre-production process was required. The musical elements of the film were pre-recorded, so it was important the actors were not only the right fit for the spot but looked natural playing their designated instruments.
Dave adds: "To convey the iconic nature of this piece, we needed the right instruments and the right people to play them. We stepped in on casting because we needed actors who looked the most comfortable playing the chosen instruments or the whole thing would have looked slightly off. Fortunately, most of the actors we worked with were professional musicians, too."
The film is available on YouTube and will run on TV, Social and OOH.
Source: Finger Music NY