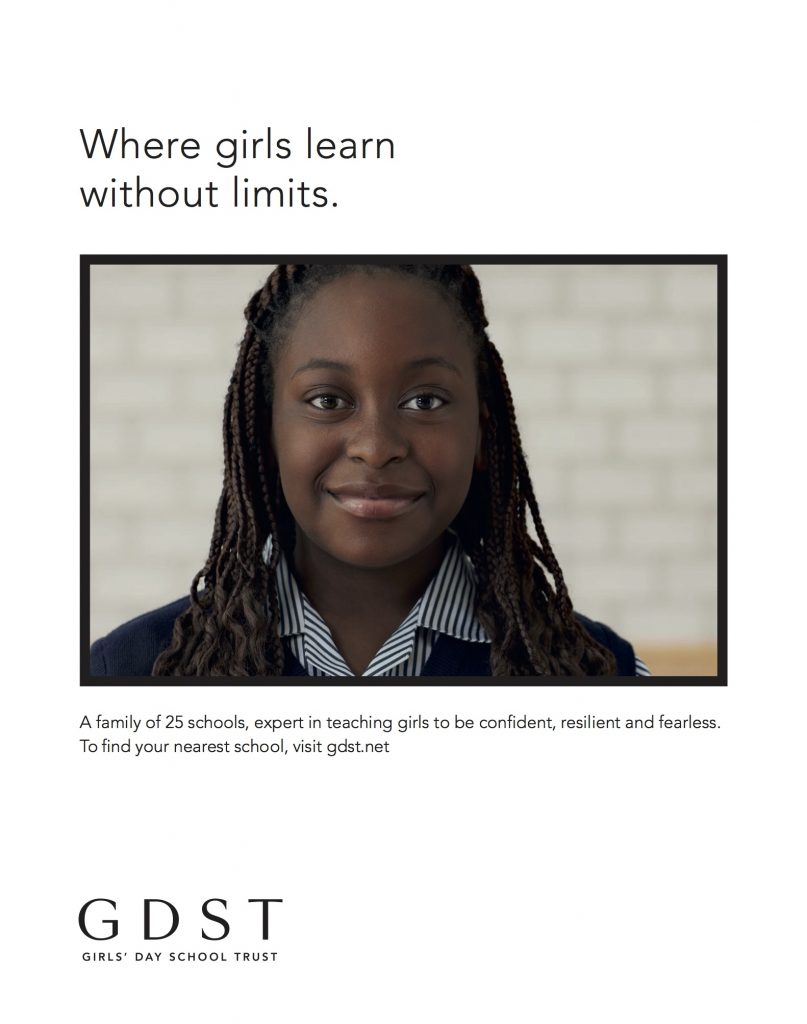 VCCP has launched a fully integrated campaign this month for the Girl's Day School Trust (GDST).
The GDST is the UK's leading network of independent girls' schools, with 23 schools and two academies throughout England and Wales. In their schools, they now educate 19,000 students and employ 3,500 staff.
The client brief was to raise awareness of the GDST as a beacon of excellence in education. The campaign is aimed at parents, particularly those considering a school for their daughter. The striking work shows happy and confident girls with the organising thought 'Where girls learn without limits'.
It gets to the heart of what the Trust is trying to achieve: celebrating girls' education and creating environments where girls can thrive; where there are no limits to what they can achieve. The campaign features real GDST girls from around the country, of various ages.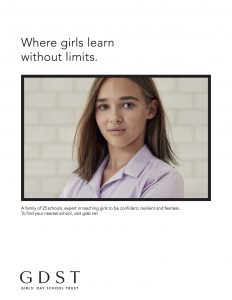 The media strategy underlines the scale of the organisation, kicking off with a front page ad in the Sunday Times, billboards, national press and a strong digital element. As part of this strategy, the GDST has also partnered with Mumsnet.
Judy Mitchem, Director of Marketing & Communications at the GDST, commented: 'These are exciting times for girls, as women are beginning to take their rightful place in the world. Our campaign celebrates the confidence and fearlessness of the girls who have benefitted from a GDST education'.
Michael Sugden, CEO VCCP Partnership added: "This is a fantastic example of creative and media collaborating to execute and amplify a campaign. From the copy and creative, to the channels and partnership activity, this integrated strategy allows us to raise awareness of the value of a GDST education."
VCCP and VCCP Media won the integrated business earlier this year following competitive chemistry meetings. This is the first campaign they have worked on together.
Source: VCCP