Virgin is preparing to come back with a bang this September with the launch of two multimillion pound brand campaigns from Virgin Holidays and Virgin Atlantic.
Creative work for both businesses was consolidated under AMV BBDO in March to deliver greater synergy and improve efficiencies between the two businesses – whilst retaining a distinctive feel for each brand.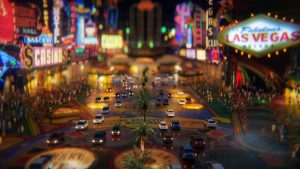 The new Virgin Holidays brand campaign 'The World Is Your Playground' encourages customers to view the world with a sense of wonder, playfulness and openness.  The idea links key Virgin Holidays destinations to popular 'play' themes.
This is underpinned by a hero TVC that shows someone riding a vintage muscle car down the Big Sur as if it was a skateboard, while carousel horses glide along the beach in Barbados; and places the Las Vegas strip inside a pinball machine, with giant paper boats in the San Francisco bay.
The new Virgin Atlantic brand campaign is 'Depart The Everyday', and is an articulation of the superior and iconic experience passengers receive above the clouds.  It is underpinned by a 60" TVC that follows passengers escaping the everyday nature of travel – before breaking through into an other-worldly experience above the clouds where the suns always shining and the magic of the onboard experience comes to life.
The cabin crew featured in the Virgin Atlantic advert are real employees you could see on an everyday flight, and were handpicked to star in the commercial following an internal audition process.
The campaigns are rooted in the belief that Virgin allows you to escape the everyday travel and airline category norm and feel amazing. The creative shows us this magical departure from the ordinary through 'hyper-real' fantastical imagery and the adverts share a common character to tie them together.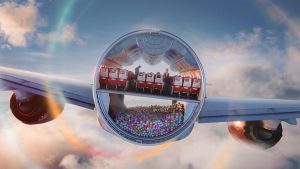 The adverts will launch during the same ad break of The X Factor on ITV on Saturday September 15th – and a complementary media buying and planning roll out will follow to maximise the overall reach and impact of the campaign across different audience segments.
In addition to extensive television scheduling, the new campaign will also run across VOD, OOH, Press, Radio, Digital, Mobile, YouTube, Facebook, Instagram and Twitter.
Virgin Holidays Marketing and Customer Director, Amber Kirby, commented:  "We want to inspire people to move beyond the everyday holiday experience, opening their eyes with a sense of wonder and encouraging them to embrace new experiences around the world.  It's about the sense of possibility and playfulness we bring to people – stimulating a sense of adventure and inspiring you to explore new places.  The world is open to you – go grab it, have a one-in-a-lifetime experience, go play."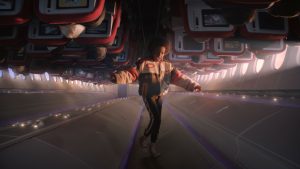 "We're committed to retaining our spot as the most loved brand in travel and this new campaign is unlike anything seen in aviation before.  We want to deliver work that is brave, challenging and unexpected – something that cuts through the monotony and tired clichés of travel marketing.  We know our brand is the most potent when you're 38,000 feet in the air and we believe our new brand campaign will bring that amazing feeling you get above the clouds to millions of households across the UK," added Virgin Atlantic SVP of Marketing, Claire Cronin.
"Furthermore, we're confident that by working alongside Virgin Holidays we're going to deliver an even greater business impact.  It's important to us we maintain two much loved brands, but there are obvious areas where we can work together better and I believe we've got the approach right with the work launching this September."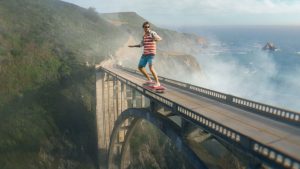 Virgin Holidays and Virgin Atlantic have opted to invest heavily in a brand and marketing refresh as part of a focused growth strategy.  The new marketing campaigns are designed to increase customer awareness and consideration in order to reach long-term profit targets and passenger numbers.
This is supported by Virgin Holidays continued innovation in the travel and tourism market with the launch of The Departure Beach and v-hub lounges, whereas Virgin Atlantic is preparing to receive the first of its Airbus A350 and is moving towards finalising its expanded joint venture alongside Delta and Air France KLM.
Both campaigns have been developed by creative agency AMV BBDO, with media buying and planning from PHD. "The World Is Your Playground" has been directed by Dante Ariola and "Depart The Everyday" has been directed by Salomon Ligthelm.
Source: Virgin