Sky Sports and Visa proudly announce their partnership to drive fan conversation and engagement around the Women's World Cup.
From June 14, Visa and Sky Media launch the France 2019 Weekly Roundup available on demand. The show, which will be broadcast every Friday for the next four weeks, is presented by Laura Woods and features distinguished sporting guests Faye White (England's longest serving captain to date) and Izzy Christiansen (former England Lioness).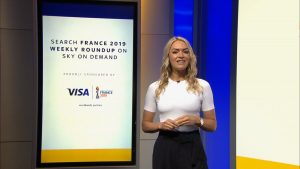 The show aims to celebrate and accelerate engagement with women's football in the UK and build a breakthrough moment for the tournament. The show will be available via on demand, on Sky viewers homepage and on skysports.com, and is filmed in Sky Sports' state-of-the-art studios ensuring a high-quality look and feel and reinforcing the credibility of Sky Sports in this area of entertainment.
From its launch weekend, Visa's 20" TVC will broadcast across Sky Media's diverse portfolio, including premium channels like Sky Atlantic, Sky One and Sky Cinema – alongside their top TV programmes, notably including Game of Thrones and Riviera. The TVC features iconic sport's figure Laura Woods promoting the weekly show, which will preview and review the tournament in action and will give viewers access to additional exclusive insight, accessible via a clickable red button.
In addition to the France 2019 Weekly Roundup, Visa will sponsor Sky Sports News' daily World Cup updates and the Sky Sports Football podcast for the entire duration of the tournament, culminating on the 7th July. Sky Sports will also support the campaign across its social channels including Twitter, Facebook, Instagram and Snapchat. The deal has been brokered by Starcom.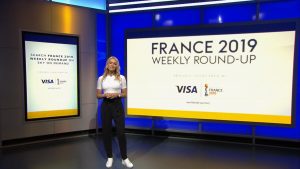 Claire Speirs, Creative Solutions Controller and ambassador for Women in Sport at Sky Media, said, "The FIFA Women's World Cup is a massive global event that is going from strength to strength. With interest in the beautiful game at an all-time high, we believe the partnership with Visa will further build excitement and passion around the tournament."
Laura Woods, Sky Sports and Sky Sports News Presenter, said, "We are really excited to have a partner like Visa supporting women's sport. The partnership between Sky and Visa highlights the ever-growing interest in women's football ahead of the highly anticipated 2019 World Cup."
Ben Dalton, Business Director at Starcom, said: "In order to truly accelerate acceptance of the women's game, we wanted take the narrative for this campaign beyond a straight spot advertising plan. Partnering with the UK's biggest sports news channel to create quality, bespoke and integrated content completely aligns with our commitment to ensure the women's game is given the mainstream prominence it deserves."
Source: Sky Media