Turkish Airlines announced its partnership with Warner Bros. Pictures on the highly anticipated action adventure film, Batman v Superman: Dawn of Justice. In the movie, a pivotal scene unfolds aboard a 777 Turkish Airlines plane. Outside the movie, Turkish Airlines is unveiling innovative movie-themed experiences that give fans around the world an inside look into the world of the iconic Super Heroes facing off for the first time on the big screen when the film comes to cinemas worldwide beginning March 25, 2016.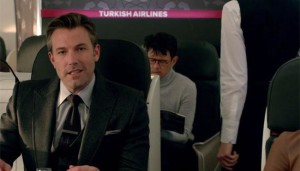 M. Ilker Aycı, Turkish Airlines' Board Chairman, said, "We're extremely excited to partner with Warner Bros. Pictures on the most anticipated movie of the year. The excitment around Batman v Superman: Dawn of Justice will enable Turkish Airlines to showcase our global network and unrivaled hospitality to a legion of moviegoers across the world."
"We are delighted to be partnering with Turkish Airlines to take Batman and Superman into the skies and to fans everywhere," said Gene Garlock, Warner Bros. Pictures' Executive Vice President, Worldwide Promotional Partnerships. "What made Turkish Airlines such an inspiring partner was their aspiration to dream up something more than just a promotional program but an experience that would be as original and epic as the film."
Drawing inspiration from the film, Turkish Airlines, in partnership with Crispin Porter + Bogusky, has created an array of experiences, beginning with an invitation for travelers to "book" flights to two new U.S. destinations – Gotham City and Metropolis. Turkish Airlines currently flies to 113 countries, more than any other airline, with flights to 284 destinations – now including the home cities of Batman and Superman.
"Showcasing Gotham City and Metropolis as our newest U.S. 'destinations' reinforces our commitment to grow Turkish Airlines' visibility in the U.S., an important and growing market for the airline," said Aycı.
From February 7th through Mid March 2016, Turkish Airlines is inviting fans and newcomers alike to visit TurkishAirlines.com/Gotham and TurkishAirlines.com/Metropolis to reserve flights and begin their journey into the world of Gotham City and Metropolis. In doing so, participants will get an exclusive virtual view into the life of each city, including the activities, culture, nightlife and more.