Wagh Bakri's new TVC for Spiced Tea, conceptualised by Scarecrow M&C Saatchi, talks about how the addition of seven spices to your fitness routine can help you achieve health goals.
The rise of fitness culture in India is inevitable process with people trying to compensate for reduced physical activity in daily life. What started as a means of preventive healthcare routine now sees Indians spend more than ever on gym memberships, fitness accessories etc.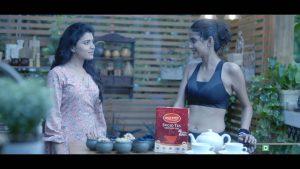 No wonder the market has registered a growth rate of 18-20 percent in the last 5 years annually. From yoga and aerobics people have now discovered resistance training, Zumba, Pilates, Tabata, etc. spending over 4 hours a week. They are also demonstrating their fitness calibre by participating in marathon runs and cycling tournaments.
With exercising and gyming routine comes increased growth in intake of health foods. People are supplementing their everyday diet with add-ons that help maintain health and immunity. And this is where the ayurveda heritage of India has been contributing immensely.
Taking a leaf from this growing need for health additions the new television commercial for Wagh Bakri Spiced Tea focuses on the strategic benefit of seven spices like ginger, cardamom, cinnamon, clove, nutmeg, black pepper and piper longum and how it can be an addition to everyone's workout routine.
The film opens on a girl in midst of her workout routine on the terrace gym of her home on a Sunday, despite rains. A friend who comes over to visit her is surprised to see this. She admonishes her that while she's focused on her fitness she might fall ill.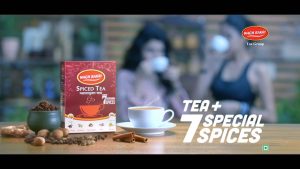 The girl confidently replies back saying, "Meri sehat maintained rakhti hai saat khubiyon wali Wagh Bakri Spiced tea". Directed by Raj Mistry and produced by Snowball Films, the main objective of the TVC was to register the seven spices that are uniformly mixed along with the tea leaves.
Paragbhai Desai, Executive Director, Wagh Bakri Tea Group says, "There is an age-old Indian nuskha that millions of Indians are already fans of that's known for its health and immunity boosting properties – the Spiced tea or Masala chai as we call it. Fitness is a positive trend that is on the rise over the past few years in Indian. We wanted to resonate with the more fitness-conscious young Indians and also remind people the daily cup of tea could be a great and delicious way of staying healthy as well as fit."
Shedding more light on the film Manish Bhatt, Founder Director, Scarecrow M&C Saatchi says, "Since there was a great strategy story to be told, we decided to make our story brutally simple. We have highlighted 2 things, the fact that it is a healthy habit just like exercising every day and secondly the fact that is it made of seven spices that have well-known health benefits."
To sum it up Yogesh Shinde, Vice President, Wagh Bakri Tea Group says, "Our Spiced tea film we are also trying to build a relationship with the younger more health-conscious generation of India."
Source: Scarecrow M&C Saatchi