In 2018, m/SIX became the first media agency to launch an internship programme designed to actively champion neurodiversity and unlock the potential of young autistic adults. Two years on and the agency's commitment continues, seeing it dedicate more time and opportunity for the neurodiverse
In 2020, m/SIX still believes that there is little meaningful action within neurodiversity. As the industry continues to make progress in areas such as gender, ethnicity and social mobility; the agency has furthered the internal programme it devised alongside charity partner Ambitious about Autism; increasing internships to four months, rather than three, offering all interns access to GroupM's online university and giving each individual the opportunity to gain IPA accreditations.
As well as providing an opportunity for non-neurotypical talent within the industry, m/SIX staff have gained a deeper understanding and awareness of autism and have found the experience rewarding both professionally and personally.
Kyra Campbell, CX content Manager and Neurodiversity Champion, m/SIX said "Here at m/SIX we are working collectively with some of the UK's leading charities and organisations to change the way adults with learning disabilities are treated and supported at work. We want to go beyond the basics of just having a conversation. For us, it's about making a profound impact within our culture and the ways in which we work with others."
It's estimated that around 1 in 7 people, that's more than 15% of people within the UK are neurodivergent and that 6.3 million people, around 10% of the UK population have dyslexia . There are around 700,000 people on the autism spectrum in the UK, more than 1% , but only 16% of UK autistic adults are in full-time paid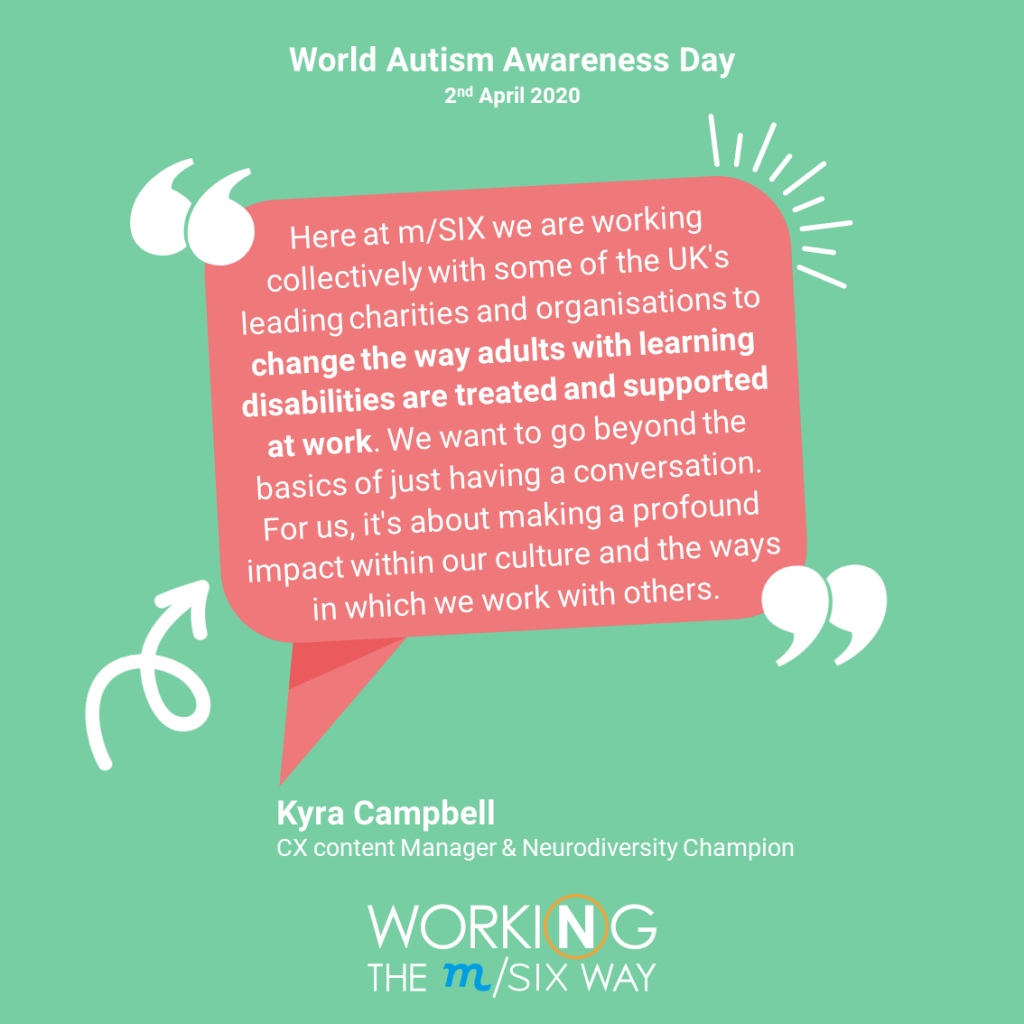 "Despite 15% of the UK population being neurodivergent in some way, people and talent functions still have a long way to go; it is estimated that only 1 in 10 organisations consider neurodiversity within their people, management practices and talent strategies. At m/SIX we see each and every team member as an individual. Over the last two years we've worked in partnership with Ambitious about Autism to ensure that our management and communication styles, and practices, are inclusive" said Matt Jordan, Head of People, UK & EMEA, m/SIX.
Jordan added "Working with such a diverse talent pool has been extremely rewarding both professionally and personally for the m/SIX team. As an agency, we're very pleased to be able to extend the programme even
further from this year onwards. The longer placements give participants the chance to gain not only valuable industry experience, but also recognisable accreditations from both GroupM and the IPA. We believe that this will not only set them up, but will provide solid grounding to kick-start their career – which we hope will be with us!"
m/SIX's interns are fully integrated into the agency and all carry out roles in varying teams: comms planning, performance planning and press buying. A flexible working routine is offered, allowing them to decide whether they'd prefer to start later in the morning, as commuting can be challenging. Improvements to the scheme are effective immediately.
m/SIX specialises in driving commercial, as well as audience growth, in today's data and tech-led media landscape, and is an industry leader in transparency, martech and next-generation audience insight. Clients include Toyota, Lexus, News Corp, Britvic and TalkTalk.
Alina Ali's m/SIX experience:
Nesting in – A journey of my internship: my name is Alina and I'm a customer experience intern at m/SIX. Firstly, I would like to start with what neurodiversity means to me. Neurodiversity is the neural differences of our brains; this can be shown through the way someone might speak or process information. Additionally, neurodiversity is a crucial part of modern working life. This is because 1 in 7 people (17 million) within the UK identifies as neurodivergent.
My experience as a customer experience intern: during my placement at m/SIX, the experience for somebody as neurodivergent as myself has been an interesting yet enlightening one. My manager, Kyra, has provided me with a great sense of knowing what it means to work in a digital customer experience team. It changed my perspective on facing a challenging day by making the most of out of it and being confident in your own abilities. I have also worked on a neurodiversity project with a neurodiverse champion which we plan to introduce to m/SIX on a global scale. The project aims to educate people on the benefits of hiring talent and not relying on stereotypes.
What I enjoyed the most about my internship: If there is one thing which I really enjoyed about the CX team is the teamwork. Not only do we get to work together on multiple projects. The work is fun and fast-paced, and I get opportunities to learn something new such as learning how to do SEO content and data analysis. I also get to learn about the changing media landscape from an industry perspective by attending brainstorming meetings and taking part in agency challenges. Working with a neurodiversity champion has also opened my perspective on how to cater my teamwork style with members who have Dyslexia, ADHD and Dyspraxia.
I highly recommend the AAA Exchange programme at m/SIX if you would like to see the first-hand experience of neurodiversity inclusion within the media and advertising industry. Most importantly, the internship has given me a better insight into how to be a team negotiator. m/SIX sets a great example of including neurodivergent people throughout different settings.
Source: M/Six