WWF France is saying "STOP" to "Montagne d'Or", an industrial gold mine project planned for construction in the French Amazonia. A new campaign will alert and mobilise public opinion on the project, which is currently the subject of public debate in Guyana. WWF France and We Are Social agency chose Ibrahim Cissé, the young French football player, to launch the #StopMontagnedOr campaign.
Montagne d'Or is set to become the first industrial mine in French Guyana and, by far, the largest gold mine in France. In addition to raising the prospect of ecological disaster in the shape of deforestation, destruction of wildlife, and an explosion of energy consumption, the project is economically flawed and a waste of taxpayer money.
Raising Awareness of the Gold Mine Project that Threatens French Amazonia
In order to raise awareness and mobilise public opinion against the industrial gold mine project that threatens Guyana, the agency We Are Social has created the #StopMontagnedOr campaign for WWF France.
The integrated digital campaign launches with a disaster film that comes alive … on a football field. Why?
Because to extract the gold, the developer plans to use 57,000 tons of explosives, 46,500 tons of cyanide, 195 million litres of fuel, and deforest 1,513 hectares of land, the equivalent to about 2,161 football fields.
The film highlights these abnormal dimensions in an original way. Shot in the style of yet another promotion for a sports equipment manufacturer, the campaign film introduces rising French footballer Ibrahim Cissé, who seems to be focused on a fitness challenge, and starts running on a football pitch at night.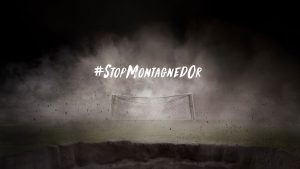 He crosses a first field, then two, then three… As his sprint progresses, Cissé confronts various elements in the fields that he traverses: there's a flood, then obstructions in the form of mining equipment, and falling trees. He keeps on his course, braving all obstacles, including explosives and wild animals on the run, before finally collapsing on the ground beside a large crater, completely out of breath and exhausted.
The campaign will come alive on social networks, always using the voice of Ibrahim Cissé who launched the campaign on his Instagram account. WWF France and the footballer will call on their respective communities and the public as a whole to mobilise globally via the hashtag #StopMontagnedOr on the stopmontagnedor.com platform to call out the French President of the Republic, Emmanuel Macron!
Jacques-Olivier Barthes, Head of Communications WWF France said: "Montagne d'Or could clear a large area the equivalent of 2,161 football fields. It is to raise the awareness among the French and global public of the vast dimensions of this mining project that we have created the #StopMontagnedOr campaign with the agency We Are Social. It contains a simple and understandable image for all to warn about a programmed environmental disaster and economic benefits that will never materialise. A decisive match is currently being played in Guyana, we need the mobilisation of all to take this project out of the game!"
Source: We Are Social