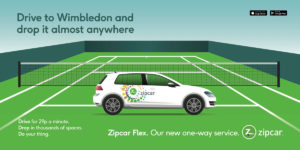 Zipcar, the global car club company and UK market leader, has launched an eight-week integrated campaign to promote their new one-way service in London, Zipcar Flex.
Lead creative agency, Founded, is responsible for the strategy and creative of the campaign 'Drive, Drop, Do'. It features over 150 out-of-home sites, digital display, website and social media advertising.
Flex allows members to drive and pay for cars by the minute. Zipcar Flex costs just 29p per minute, including both fuel and insurance. This means one-way trips of twenty minutes cost just £5.80, offering a significantly cheaper transport option than private taxi hire alternatives.
Members can pick up and drop off anywhere within London's new Zipzone. The service has launched across South London, with the Zipzone expanding later this year.
The campaign was founded on an understanding of how mobile and digital technologies are impacting consumer behaviour. This is evidenced by the success of brands such as Deliveroo and Amazon Prime, and their ability to provide immediate access to products and services, allowing audiences to be more flexible and reactive.
The founding insight however, showed that city life and transport doesn't comparably offer such a seamless experience. With this in mind, the strategy focused on championing the target audience to live more spontaneously, with the freedom to move around.
The 'Drive, Drop, Do' message plays on this by inviting Londoners to get out and about more and to enjoy more experiences. The hyper-local campaign features well know landmarks in South West London such as Tooting Bec Lido and Wimbledon Park.
Garry Thornton, Senior Marketing Manager UK at Zipcar UK, commented: "We've worked with the guys at Founded on a number of successful campaigns over the past few years, they have a deep understanding of our brand and members. Flex is all about spontaneity, and 'Drive, Drop, Do' certainly embodies the spirit perfectly. It's a simple yet effective execution, which we're sure, will encourage more Londoners to join Zipcar and start to enjoy the benefits. "
Damian McGee, Managing Partner at Founded said: "Zipcar is a true innovator brand and one we're proud to partner with. Our Flex campaign is designed to capture the spirit of modern London living. We're already seeing great results and moving hundreds of people to try the new service."
Source: Founded