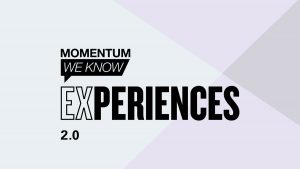 Leading global experiential advertising agency Momentum Worldwide is unveiling results from its proprietary research series, WE KNOW Experiences 2.0, which this year surveyed 3,200 consumers globally.
In this year's report, consumers identified "inspiration and meaning" as the most sought-after quality in brands, a 200 percent increase from 2012 for this particular set of attributes. 76 per cent of all consumers would rather spend their money on experiences than on material items.
"In just a few short years we've seen an enormous shift in consumer sentiments towards brands and their involvement in live experiences. At the rate consumer expectations are evolving, brands are hard-pressed to keep up with their needs, which is what prompted us to modernize the topic," said Chris Weil, CEO at Momentum. "The truth is, consumer expectations are transforming experiences into remedies for the challenges we face as a society. Brands need to be cognizant of this demand in order to create truly exceptional events that resonate with people on a personal level."
The report provides three main takeaways for brands to resonate with the modern consumer: to be present, purposeful and personal. Highlights from the research in these areas include:
Brands have a unique opportunity to connect and make an impactful impression on consumers through experiences as58 percent of respondents want to be part of an experience to escape from everyday life, while 70 percent want an experience where they can laugh and have fun.
Not just looking for a good time, 63 percent of consumers want to be part of an experience where they learn something new.
It's no longer enough for brands to simply debut a product, instead 86 percent of consumers believe it's important that brands lift their mood and make them feel better, compared to just 23% in 2012.
With an increase in anxiety, 83% of respondents also believe it's important for brands to take away stress or anxiety.
Consumers also care about the environment and social causes with 70 percent of respondents more involved in environmental and social causes.
Conducting the first WE KNOW Experiences in 2012, this latest report, which takes a deep look into the behaviours of consumers and what they value in brands, shows a clear evolution in the brand-customer relationship and the push toward human-centric experiences. Utility, which was identified as the number one aspect consumers valued in brands in 2012, has dropped 32 percent.
"We've traced this shift in sentiment to the macro changes society has experienced over the past seven years including the rise of stress, a lack of trust in institutions and a feeling of disconnect caused by technology," said Elena Klau, Chief Strategy and Analytics Officer, NA, at Momentum. "It's due to these reasons that consumers are attending more events than in the past."
Source: Momentum Worldwide