Air China, the Chinese airline and global aviation leader announces the launch of the 'Land Your Dream' campaign, which has been designed to inspire Brits to make their dreams a reality with Air China.
This new global creative platform is the latest step in Air China's commitment to helping people land their dreams by connecting business travelers and tourists alike with all the possibilities that China and the rest of the world holds.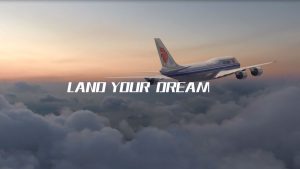 With new route launches, such as the recent Gatwick to Chengdu route and the latest introduction of Boeing 777s to offer wider aircraft, plus improved products and services, Air China strives to constantly better-serve its passengers. Air China aims to allow travelers to chase their dreams and while also building lasting connections between the UK and China.
Proof of Air China's determination to help aspirational Brits achieve their dream and to launch the campaign, later this month Air China will launch a competition for consumers to help them land their dream. One lucky person will win a pair of Air China tickets for a return business class trip to China or round the world flights. Nine second prize winners will win a set of premium portable speakers and 30 third prize winners will receive a stylish suitcase, essential items to Land Your Dream.
To enter, dreamers should head to the Land Your Dream micro-site where they can then enter their ideal destination and explain what their dream is, along with their contact details to be in with a chance of winning.
The campaign creative displayed on the micro-site, features dream like clouds as the user soars through the sky to reach the landing page. The creative features popular dreams and iconic destinations reimagined in cloud form. This imagery also features in out of home, digital and social media creative, with dream clouds often replacing the faces of people as they ponder their dream. The playful imagery builds on the connection of using air travel to help achieve life's aspirations.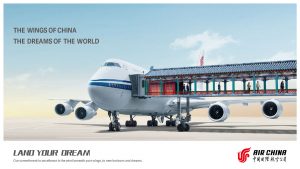 Print adverts convey that as China's leading airline, Air China is not only culturally confident and friendly, but it also works hard to craft premium services that are imbued with the essence of Chinese culture.
A new TVC will air from 1st November and will be supported by out of home and digital campaigns. Shot using a high-end cinemographic style, the emotive 2'40" film and two 30" cut downs show the dynamism of business, the wonder of tourism and Chinese people's pursuit of a better life in today's China.
The creative aims to convey that Air China cares about and supports each person's journey and will be there for each passenger as they land their dream. The campaign will also be supported with PR, social media and influencer marketing which will commence from the launch.
Leading Chinese airline and Star Alliance member, Air China connects the world's travelers with top-notch services, amenities and authentic in-flight experiences, allowing every passenger to successfully land their dreams. As the longest operating Chinese airline, Air China provides an accessible bridge between the UK and China, with a robust network for travelers covering six continents, to help those with wanderlust travel to their dream destinations.
Hongbing Chen, Deputy General Manager, Air China Europe commented: "For almost 40 years we have been allowing Brits to live out some of their biggest dreams by connecting them with China. From walking the Great Wall to visiting the rice paddies and trying the finest Chinese delicacies or even seeing pandas up close, our first class service and vast flight network has opened up endless possibilities. The Land Your Dream campaign is the next exciting milestone in our history and we can't wait to help people achieve their dreams by entering our competition to make them come true."
Source: Air China