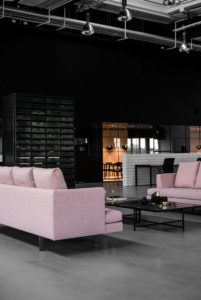 Ideas and innovation company AKQA opens the doors to its first studio in Scandinavia.
Specifically designed for client co-location the 50-person, 1100 square meter open floor plan studio serves international clients including Volvo Cars.
A striking renovation of an old shipbuilding warehouse, the space is situated dockside along the Gothia River in Lindholmen, Gothenburg's emerging creative and technology hub. A team from AKQA shared the vision and collaborated with architects Amos+Amos to conceive a unique architectural identity, one inspired by the Swedish culture of collaboration.
AKQA CEO Ajaz Ahmed said: "Our primary motivation is to create genre-redefining work. Our Gothenburg studio marks our commitment to teamwork, generating ideas in partnership with clients. Since our inception, AKQA's architectural philosophy has always been to design spaces that elevate the spirit, inspired with local culture, modernity, sustainability and intelligence."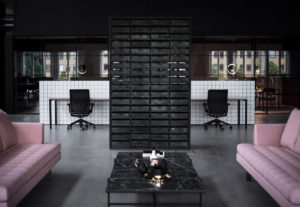 "We've created a space in form and function that's conducive to our core founding values of innovation, service, quality, and thought," said Ron Peterson, Managing Director. "Ultimately, it's about ensuring every input encourages collaboration to foster progress on behalf of the audiences we jointly serve with clients."
To host co-located clients and partners, the central space retains an open-plan design with shared cafe and presentation theatre, communal workbenches built from white oak, a custom-cast concrete reception, communal dining table and kitchen, and central hub with guest seating.
In contrast, the periphery organises itself in geometric zones fulfilling the function of specific tasks. Meetings are held in oak-clad rooms behind a Crittall glass screen, a master boardroom rests under a 20 meter black timber-clad bulkhead, and project rooms are housed in a freestanding mono pitched structure resembling a home.
AKQA Gothenburg represents the 21st studio. In August 2016 AKQA unveiled the World Architecture Award winning AKQA Casa, a cultural hub for São Paulo's creative community inspired by a community-focused open innovation space with a homelike and inviting atmosphere.
Source: AKQA