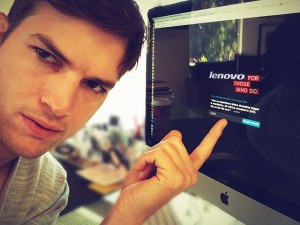 Ashton Kutcher has reportedly signed a $10m deal to become the brand ambassador for Lenovo, the computer manufacturer based in China.
Kutcher, who stars as Steve Jobs in a biopic about the Apple founder, will appear in print and TV ads for the company as it tries to boost sales in the US.
The $10m he will receive for his endorsement equates to nearly eight per cent of Lenovo's net earnings in its fiscal fourth quarter.
Currently, Kutcher also fronts campaigns for Nikon as part of a multimillion dollar a year deal.