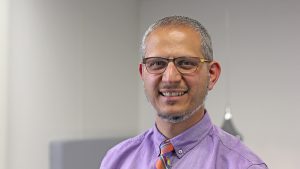 Bambos Neophytou has joined Simplyhealth, the UK's leading provider of health and dental cash plans, Denplan dental payment plans and pet health plans, as the company's new Brand Director. 
Having been a strategic head at Virgin Media for over five years, within the areas of Brand, Marketing, Customer Experience and Research,  Bambos most recently led the Marketing Strategy team overseeing Competitor Intelligence, Market Insight, Customer Research, Marketing Communications, Compliance and Brand, Campaign and Messaging Strategy.
Prior to joining Virgin, Bambos had a varied career in strategic brand roles within research, marketing and advertising agencies including Added Value, BBH and exposure. He has delivered projects for brands in diverse sectors for the likes of the BBC, Unilever, NSPCC, Microsoft, The Fairtrade Foundation and De Beers, both through agencies and directly when consulting for clients.
He has also published books on both marketing and non-marketing topics, and has been a brand expert on the BBC World News channel and Simon Mayo's Drive Time show on BBC Radio 2.
In his new role as Simplyhealth's Brand Director, Bambos will be responsible for increasing the company's capability to drive the brand strategy and management.  He will also be responsible for accelerating the recognition of its brand awareness and equity, including driving maximum engagement through the Simplyhealth Great Run Series, helping to deliver the company purpose of helping millions more people make the most of life through better everyday health.  
"I'm really pleased to be joining Simplyhealth," explains Bambos.  "Simplyhealth is a fascinating organisation with lots of potential in a sector that is growing in importance; it feels like an incredible opportunity to be part of it.  There are some very inspiring transformational projects going on and lots of brilliant people leading them in a people and customer centric culture – who would not be excited by that? And given the health sector seems so fundamental to so many things people care about, it's an irresistible combination of factors."
Bambos will report to Kate Thornton, Chief Customer Officer, who commented: "Bambos' appointment is a critical one as he will enable us to build greater awareness and understanding of the Simplyhealth brand, which is one of the key building blocks of our future success. I'm delighted to be welcoming him to our team, where he will have accountability for working with teams across the business to develop our brand both internally and externally as well as leading our Corporate Communications team, the Design Studio and our partnership with the Great Run Series."
 Source: SimplyHealth