Blackjack Promotions, the UK's leading travel retail and brand experience specialist, is strengthening its senior leadership team with the appointment of Richard Simkins as Head of Creative Partnerships.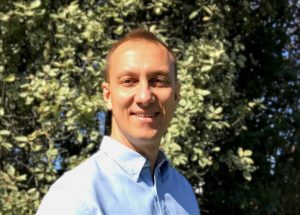 Joining from a consultancy background, Richard brings with him 20 years of experience in the creative industry. For the past decade, he has led innovation teams to devise and deliver outdoor advertising and experiential campaigns for some of the world's most well-known brands.
In his role at Blackjack Promotions, part of ABM, Richard will be responsible for offering a wider range of industry-leading creative solutions to new and existing clients across the business portfolio.  
Working within the multi-disciplined brand experience team, the role will be key in driving Blackjack Promotions' strategic growth plan by helping to reshape and evolve its capabilities and create a refreshed offering to take to existing and new markets. Working alongside Leanne Nutter (Head of Travel Retail) and Fiona Rayner (Head of Experiential), Richard will broaden the possibilities for Blackjack Promotions outside of travel retail.
Speaking on his appointment, Richard commented: "As a travel retail expert, the past year has demonstrated Blackjack Promotions' ability to pivot and showcased the agility of its people, who became trained in COVID safety to support the NHS in hospitals and at testing sites. This training, coupled with Blackjack Promotions' logistical infrastructure, reputation for experiential marketing and customer service, makes this opportunity an incredibly exciting one. 
"Across the business, we have a fantastic pool of talent and an incredible client portfolio which presents lots of opportunity for increased collaboration and the creation of new and enhanced services. I can't wait to make a difference."  
Richard will report into Antony Marke, Aviation Group Managing Director and will split his time between ABM's head office in London and Heathrow Airport's World Business Centre, home of Blackjack Promotions.
Antony Marke said: "This is a really exciting time for us as we focus on evolution and regrowth using our skills, talents and resources. 
"We're confident that Richard will play an integral role in expanding our reach, introducing opportunities in other sectors and offering new customers some of the magic we have delivered in travel retail over the last 25 years." 
Source: Blackjack Promotions