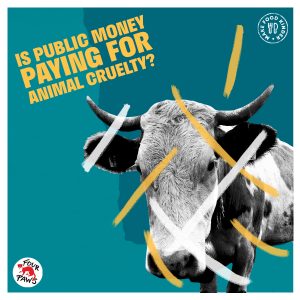 Global animal rights charity Four Paws, has appointed Blue State Digital to create a campaign to improve animal welfare across the UK, following a five-way pitch.
The digital campaign, called 'Make Food Kinder,' aims to empower consumers with information about what their local authority is doing to establish or improve animal welfare practices. The message will be underlined with a hard-hitting tagline, 'Is your money paying for animal cruelty?'
The charity wants consumers to encourage councils to adopt, publish and enforce animal welfare policies that prevent public institutions from contributing to unacceptable farming practices and improve standards of living for animals that are raised within farms in council boundaries.
Blue State Digital and Four Paws will be launching a website acting as a campaigning platform to raise awareness of the issues, including a map detailing what councils across the UK are doing for animal welfare practices and a petition urging local authorities to improve.
The map will feature colour-coded pins that relate to a points score awarded to each local authority. If a local authority does not have an insurance policy in place, they automatically receive a red pin, and because of these, the majority of local authorities will be scored 20 or under (red).
One Local Authority is performing at over 50 points with a green pin at the moment – the London Borough of Greenwich, which not only has a policy in place, but is also going beyond the minimum animal welfare standards for animals including dairy cows, pigs, beef-producing cows and egg-laying hens. Currently more than 85 percent of local authorities have a red pin, denoting an unacceptable score underlining the need for change within the industry.
People visiting the website are encouraged to sign a petition stating they want their local authority to impose policies to prevent unacceptable farming practices. Information gathered from over 150 local authorities will be included for launch, and the map will hold the local authorities' contact details so that people can contact them if they wish to take further action.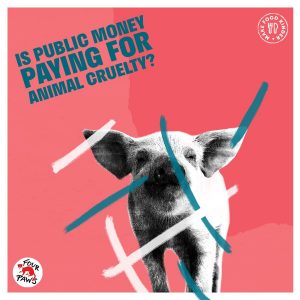 The site will be promoted with a media campaign across social platforms, as well as at Four Paws events and via direct outreach by Four Paws who will be visiting public institutions such as schools and hospitals to raise awareness of the campaign.
The platform is the first step in a four-year campaign designed to create positive change for farm animals raised in the UK. If effective, the model will roll out across Europe over the coming months.
Cordelia Britton, head of programmes, Four Paws UK, said: "Currently, members of the public can choose to buy higher welfare, free range or organic meat and eggs, in the supermarket or butcher, and that's about it. But to make a real difference for farm animals, we need to also increase standards across the board, and involve some of the stakeholders with the biggest direct influence, which is why our campaign is addressing local authorities. It is very difficult to find out which animal welfare standards public institutions are following, because only a few currently have published food policy that is accessible to the public. We are asking local authorities to be more transparent, and are working with them to provide better food from higher animal welfare standards in their local area as currently only a few go beyond the basic minimum standards. With Blue State Digital we're creating a simple, easy-to-understand way of getting that information out there, and hopefully encouraging local authorities to improve standards."
Haneef Khan, director of advocacy and engagement, Blue State Digital, added: "Four Paws' campaigning tool will champion the best councils in the country when it comes to keeping animal welfare standards as high as possible, and highlight the areas where the issue needs more attention. The great thing about using digital channels for this kind of campaign is that they're accessible to almost everyone, easy to keep up to date and simple for people to dip in and out of to see what progress has been made in their local communities. We'd love to see this campaign help improve not only the quality of animal products sold and consumed via local councils, but the quality of life for animals all over the country."
Source: Blue State Digital