BMB is launching a new campaign for Rowse Honey featuring three modern-day bears: Matt, Joel and Phil.
In response to Rowse Honey's challenge to encourage more people to put honey on their porridge, the agency decided to update the fairytale for a modern audience and create a YouTube cookery show, The Three Bears, with bigger, grizzlier and infinitely more fabulous bears than Goldilocks ever got to meet.
Matt, Joel and Phil are three gay men who identify with the term 'bear', often used to describe large, husky, gay men sporting a lot of body hair.
In the show, The Three Bears live together in a rustic wooden lodge surrounded by nature. Each episode sees them create a delicious new porridge using Rowse honey and follows their hilarious antics along the way.
The campaign launches with three online episodes and a 60 second teaser trailer, supported by Out Of Home, social activity, and a Stylist cover wrap.
Kirstie Jamieson, Marketing Director of Valeo Foods UK said: "BMB tackled the brief of getting more people to put Rowse Honey on their porridge head on.  Our Three Bears Breakfast show is the authority on porridge and honey and the simple but tasty recipes offer some charming breakfast inspiration for those dark winter mornings. It is really exciting to connect Rowse with a younger audience in an engaging & relevant way."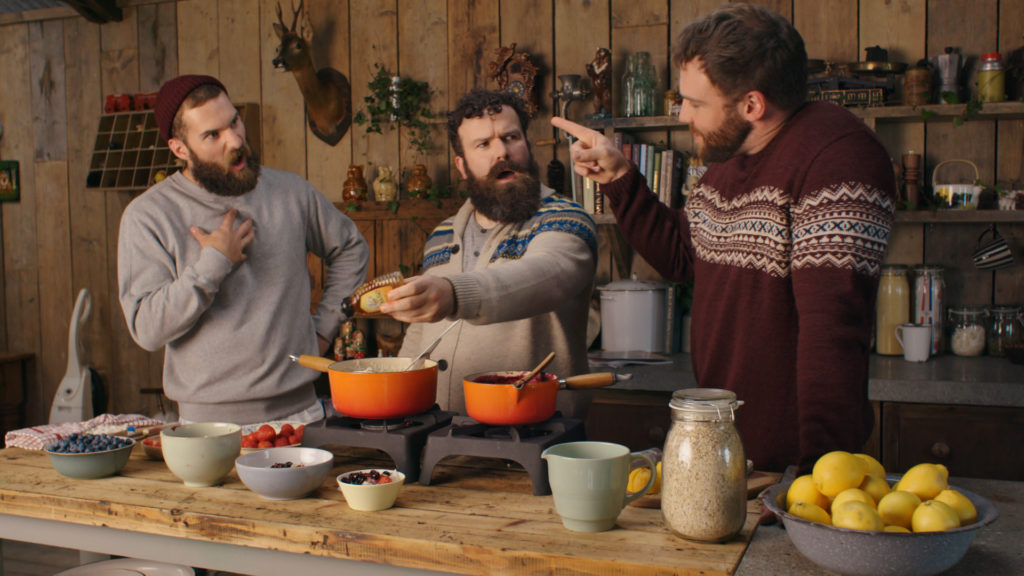 Jules Chalkley, Chief Creative Officer at BMB said: "The Rowse Honey brand is the number one spread in the UK and we wanted a creative idea with the scale and stature to match.  We took the very humble business challenge of encouraging more people to put honey on their porridge and invested it with as much heart and passion as we could.  The Three Bears is a YouTube based recipe show that dusts down the 19th century fairy tale and sets it firmly in the 21st century. Our ambition is that hopefully it turns into a much bigger entity that plays in to the nations deep love of cookery shows."
Matthew Lister, who stars in the campaign said: "The gay community is so vibrant and diverse, recently LGBT people have appeared at the forefront of several advertising campaigns.  That said, it seems certain groups have been under represented in the media which is why I jumped at the opportunity to feature in The Three Bears. The filming process reminded me a bit of my experience of the Bear community. We arrived on the first day not knowing each other, but everyone was easy going and welcoming. Very quickly the banter and camaraderie between us all developed and by the end we all felt like great mates."
Credits
Chief Creative Officer
Jules Chalkley
Creative Director
Matt Pam & Simon Hipwell
Art Director
Jenny Piggott
Copywriter
Harry Boothman
Business Director
Richard Wilcock
Account Director
Ben Clark
Agency Producer
Elin Tiberg
Executive Digital Director
Ben Lunt
Digital Producer
Melanie Lowings
Photographer
Clare Lewington
Director/ Production Co
Chris Goulder / Bare Films
Producer
Jessica Turner / Tim Marshall
Editor
Chris Roebuck
Post Production
Yoomin Lee and Andy Brown @ Jogger
Sound Design
Tom Heddy @ Wave
Typographer
Sam Kallen
DoP
Chris Clarke
Source: BMB