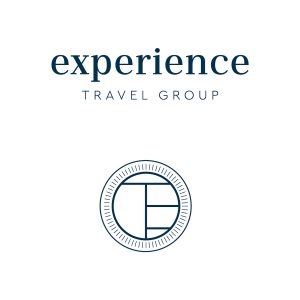 Boutique Asian adventure travel company, Experience Travel Group, has launched a new brand strategy and identity to further differentiate itself in a congested market. The refresh has been carried out in collaboration with leading consultancy, BrandCap, which has been responsible for the positioning, brand strategy, purpose and identity.
The premium travel agency creates distinctive holidays by curating experiences of Asia that bring the fabric of a destination to life for each individual customer. Behind its mission sit six key experience principles which enable the brand to own its space and carve out its unique voice.
All brand touchpoints reflect the brand's personality of being inspirational, curious, bold and most importantly genuine. For instance, the photography used by Experience Travel Group on its website and marketing collateral is all real.
The brand commissioned luxury travel photographer, Tom Parker, to travel to all of Experience Travel Group's destinations and capture real moments in time. It focuses on the brand's exclusive network of local partners capturing how they live and work. It differs from other travel photography as it tells the story like it is and leaves it to the customer to interpret.
To reflect the premium and approachable nature of the brand the colour palette has been chosen carefully using muted colours; a combination of ink and eggshell, which demonstrate confidence in their simplicity. They are reinforced by sage green as a highlight across print and digital and calls to action on the website use bright orange and blue. The main typeface is Josefin Sans, a modern and bold font that is professional but also resonates the warmth of the brand.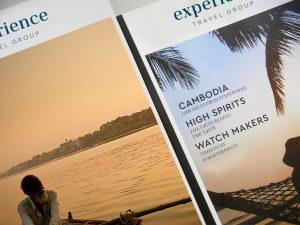 The simple logo is formed from the idea of Experience Travel Group as experience curators that are there for its customers every step of the way. The typeface is a crisp and clean serif font with 'experience' written in sentence case representing the brand's approachable nature. A symbol for the brand has also been designed. It is inspired by a compass or key that drives and unlocks experience. Experience Travel Group's initials are 'hidden' within it emphasising the mysterious nature of a holiday with the organisation.
Sam Clark, Managing Director, Experience Travel Group said: "We are delighted with our new brand and believe that it truly sets us apart in the luxury travel market. Working with BrandCap has enabled us to view our businesses through a brand lens so that now everything we do truly reflects our DNA. It has given us direction and purpose which will make our experiences even better for our customers."
BrandCap's Senior Designer, Vanessa Turner added: "Experience Travel Group is a company that all of us would love to go on holiday with – therefore it has been a delight to help create a brand that best reflects the ethos and ambition of the company."