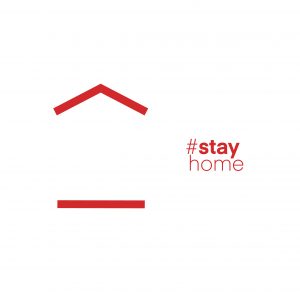 In difficult times, small gestures can make a great difference. That's why Brazilian branding consultancy GAD' has created "Your Brand also Stays at Home", an initiative that offers for free an open brand, a graphic sign, that all companies can use in an immediate, simple and practical manner, to support the social pledge #stayhome, which took over the world in face of the coronavirus outbreak, since social distancing in the most effective measure to fight the spread of Covid-19.
The idea is to propel the public pledge to society beyond hashtags and slogans, offering a visual representation through the graphic element that most translates an organization's identity; its logo. This way, any company, from any size and nationality, can emphasize its commitment to the social distancing cause, in this crucial moment to humanity.
The template has a brand with the outline of a house, in which interior the image of a company logo can be inserted, sided by the hashtag #stayhome, both in English, Portuguese and Spanish. In the link https://www.gad.com.br/fica-em-casa/ one can access a brief tutorial that explains how to download and customize the file to the company's logo.
"We wanted to create something that all brands could quickly take to themselves, to help spread more strongly the collective pledge for social distancing. The time is of absolute empathy and collaboration, therefore, it's time for all brands to be more flexible and promote the most important message to the world today: #stayhome", says Luciano Deos, GAD's founder and CEO.
Source: GAD