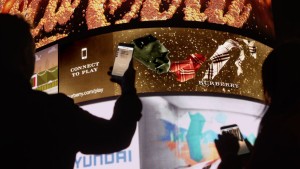 Burberry has teamed up with DreamWorks Animation to create an interactive campaign on the Curve screen in Piccadilly Circus, London.
Using 3D technology by Nova, the campaign features computer-generated versions of its heritage scarf that users will be able to personalise and play with. Up to five particpants at a time will be able to explore the full range of Burberry scarves on their mobile device, monogram their favourite and see it appear on the giant screen where it will fly around directed by the motion of their device.
They will then have the option to purchase their scarf on Burberry.com or receive directions to the nearby Regent Street flagship store.
Christopher Bailey, chief creative and chief executive officer of Burberry said: "DreamWorks Animation is peerless in the work that it has done on the big screen in so many stunning films. They have constantly pushed the boundaries of what is possible in digital animation and with their latest Nova platform we have been able to partner with them to create something really beautiful and engaging for our customers."
The experience will launch on the 14 December at 10am and will run 24 hours a day until the 31 December.