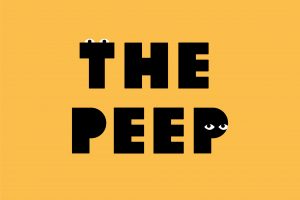 London design studio Charlie Smith Design launched a new website for The Peep, its online platform that celebrates the creative industry.
The Peep is an online community for creatives from a wide range of disciplines to showcase their work. What began as a bi-monthly newsletter has now grown into a fully-fledged online magazine showing the potential of studio projects to expand and benefit a wider audience.
Charlie Smith Design was founded in 2003 by former Pentagram designer Charlie Smith. The studio is firmly at the centre of the creative community, fulfilling diverse design briefs for clients from John Lewis to the V&A.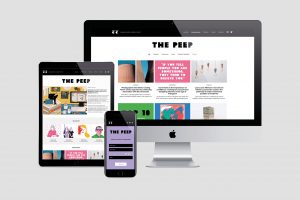 "We wanted to start a studio project that was all about sharing other creatives' work and connecting with like-minded people. We're often commissioning illustration for projects, and work on exhibition projects with all kinds of creatives, from furniture designers to dressmakers and curators. It made sense to apply this knowledge and experience in a way that brings the community together," says Charlie Smith.
Launched last year as an e-newsletter, The Peep began as a passion project for Charlie Smith Design. Each issue featured a creative, ranging from copywriters to photographers and artists, responding to a theme set by the previous contributor. But the studio has bigger ambitions and seven issues in, it's ready to grow.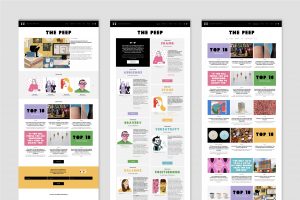 The Peep is all about celebrating the creative industry and the magic that goes on behind the scenes. The two main categories are 'Creative Lives' and 'Process'. Each category is divided into subsections that offer glimpses into a creative's life, whether that's looking at work, life in the studio or a career journey. The features range from spotlights on projects to quick-fire questions and in-depth interviews.
"'Unseen Ideas' will be a regular slot that celebrates all those great concepts that never came to be. In this age of instant gratification and the hunger for likes on Instagram, it's important to see this side of creativity, and that's a balance we have wanted to address," says Charlie Smith.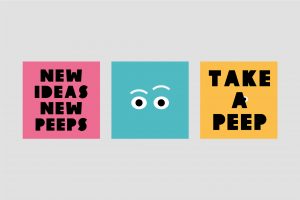 The studio worked with a copywriter to achieve the right name and tone of voice. "We decided on The Peep because it conceptually articulated what we wanted to do, taking a glimpse into other creative minds," adds Smith.
The visual identity is bold but playful. The eye icons can be animated, the colour palette is bright and vibrant, and the bespoke typeface has been designed in-house. The challenge was creating a distinctive identity that didn't overshadow the variety of work that it is championing online.
"We wanted to create something that wouldn't clash or compete with the brilliant work that we feature, but we knew we needed something distinctive that had personality," says Charlie Smith.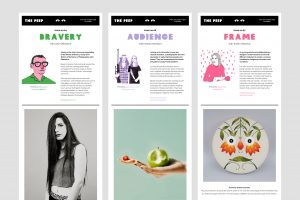 The Peep online magazine launches September 12, and the newsletter will continue to feature work on a bi-monthly basis.
"As a studio we're always so impressed with work produced when we collaborate with other creatives. So, having an opportunity to feature them and others on The Peep is really exciting. We know this next step for The Peep will allow others to discover and share the most engaging talent in the creative industry," concludes Charlie Smith.
Source: Charlie Smith Design