In an unprecedented activation, Chevrolet prepared a surprise in style for the fans of Camaro, which celebrates its 50th anniversary with the Camaro FIFTY. The brand prepared an activation, which counted with two radical jumps, to celebrate the half-century anniversary of the legendary vehicle.
In the first one (above), is the car that "blows out" the candle of a giant cake, after jumping at high speed.
In the second test (below), an unprecedented performance in the world: the Camaro jumps from a moving truck to another moving truck. During this automotive Parkour, the performance evolution, the 461hp V8 engine roar and the incredible acceleration of zero to 100km/h in 4.2 seconds are highlighted; essential requirements to participate in such a test.
The acrobatics originated two films, which were created by Commonwealth//McCann Brazil and production of Volcano Hotmind.
"For the first time we launched a campaign for Camaro, our legendary car. The fifty-year-old brand and the Fifty commemorative edition deserved a strong message from Chevrolet celebrating our iconic car with innovative design and all the technology that only Chevrolet has. The campaign is the celebration of a legend, " said Hermann Mahnke, South America Marketing Director at General Motors.
For the execution, Chevrolet invited Mike Ryan, one of the most respected pilots in terms of radical car manoeuvres and his team, formed by Eric Matuschek and James August Smith.
Member of the LA Motorsports Driving Team, Mike has more than 30 years' experience as stuntman and in the coordination of stunt performers; and has worked on several films such as "The Fast and the Furious", "Men in Black", "Rush Hour", "The Terminator", among others. In TV series, he worked on "Great American Road Trip", "Top Gear" and hundreds of commercials, including the "Sonic Kickflip", in which the car makes skateboard manoeuvres, also for Chevrolet in Los Angeles.
Details of the super-production
Mike's team came to Brazil last December to project the ramp, give instructions on the structures and carry out tests. The official jumps happened on April 2nd and 3rd this year. To capture all angles of the event, 18 cameras were used – including go pros and drones – and 200 people participated in the production.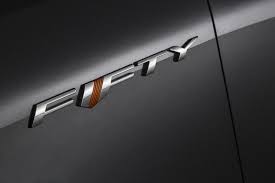 For the first jump, a 4-meter-diameter cake with candles lit on its top was built. Reaching 4.5 meters high, it was positioned between two ramps of 37 meters each. The Camaro FIFTY accelerates in order to be able to overcome the distance, and in the middle of the 10-meters jump, it "blows out" its anniversary candle while in motion.
In the second achievement, the Camaro FIFTY is on the top of a truck which is 2.43 meters wide and 28 meters long, accompanied by an identical truck, which is right in front of it. It jumps from one truck to another while it is in motion.
Source: Commonwealth//McCann Brazil