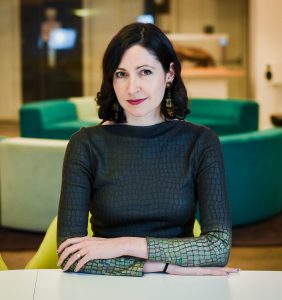 co:collective announces the launch of a new practice – designed to help clients activate purpose inside their organization, with the aim of building more empowered and innovative cultures. The offering will be led by Kit Krugman, former President of WIN: Women in Innovation. 
"Most modern organizations recognize the benefits of having a purpose: more motivated employees, more engaged and loyal customers, and greater focus and differentiation," said Krugman, "but the most challenging part is not determining a purpose, it's operationalizing how that purpose changes behavior."
The Organization & Culture Design practice will help clients build purpose-led businesses from the inside out. "That means aligning your purpose with your operating principles and the systems that support them: impacting everything from decision making to behaviors, communication, incentives, rituals, and employee experience." Krugman shared.
"The most successful companies in the world today are driven by a central purpose that we call a Quest." Ty Montague, co:'s co-founder explained. "Our work over the past decade has taught us that often internal organizational structure and culture play an out-sized role in either enabling or preventing success."
Prior to formally launching this practice, co: has worked on culture change initiatives with clients like MoMA, MetLife and PUMA. "A great company purpose is not something you say; it is something you do. By necessity, it emanates from the inside of a company out." Rosemarie Ryan, co:'s CEO and co-founder added, "When we have done our most impactful work, our clients have said: the culture changed – that's what drove real transformation."
"Today's organizations aren't designed to meet the needs of a new generation of employees seeking community, meaning and equity in the workplace." Krugman says, "Looking for meaning and a mission, Gen Z employees are instead faced with structures and processes that are a hangover from the industrial era: stiff silos and outdated power dynamics. We need to embrace a broader set of goals than shareholder value, and design organizations that optimize, not repress, critical skills like creativity, collaboration, and leadership in diverse teams."
"We are thrilled to have Kit leading this work," Rosemarie added, "she has been a tireless champion for creating more equitable and inclusive cultures – inside and outside of co:. She brings a wealth of experience in building future-facing organizations as well as deep subject matter expertise in the psychology of human behavior and organizational change. 
Source: co: collective