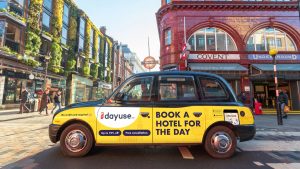 Dayuse.com, the global leader in daytime hotel booking platforms, announced that they will be launching a new taxi campaign to raise brand awareness. Running for one month, the campaign will see more than 400 of the iconic Black Cabs, adorned with Dayuse.com's branding, take over the streets of London. The undersides of tip seats in the taxis will also be decorated with the brand logo.
Dayuse.com's innovative service is embraced by both hotels and consumers. On one hand, hoteliers can generate incremental revenue by selling their empty rooms during the day. On the other hand, this platform saves the day for a very large clientele: travellers with a never-ending layover, business people looking for a remote office or locals in need of a daycation. Enjoying hotels during the day has become an increasingly modern consumer trend, sought out by urbanites and a nomadic, connected customer base.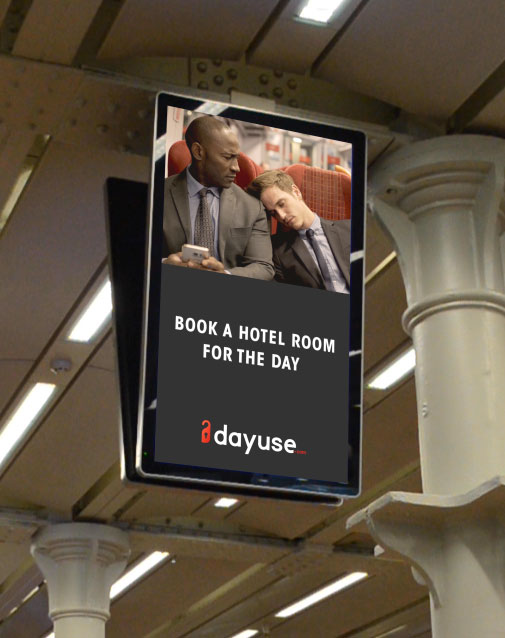 In collaboration with taxi advertising company Ubiquitous, this second campaign of 2019 will help promote the brand to new audiences throughout the capital and educate consumers about the possibility to book a hotel room during the day at a discounted rate. The number one daytime hotel booking marketplace is available in 25 countries with more than 5,000 hotel partners. The service has facilitated over one million bookings globally since the platform's launch in 2010.
Often praised as the ideal app for tourists and business travellers alike, Dayuse.com is also proud to partner with Eurostar and St Pancras International Station! A video is currently broadcasting on 36 digital screens in the boarding room of the Eurostar, St Pancras.
To celebrate the 25 years anniversary of the Eurostar, the Metropolitan, the Eurostar magazine with a readership of a million travellers between London and Paris, will feature a Dayuse.com ad in its first 30 pages.
Source: Dayuse.com