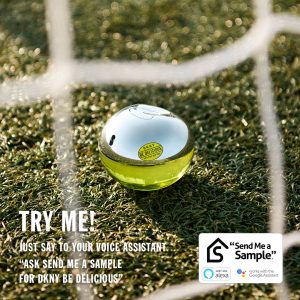 DKNY (ADF Fragrances) has partnered with voice-activated trial & acquisition platform Send Me a Sample, to drive trial of its Be Delicious fragrance amongst Gen Y and Z, by offering samples via voice.
The brand is targeting women aged 18-30 via paid-for posts on Facebook and Instagram. Those targeted will be served creative prompting consumers to request a sample of the fragrance via Google Assistant or Amazon's Alexa.
Upon receiving their sample, customers will also be given a coupon for online retailer Fragrance Direct that entitles them to a free gift, helping to drive ongoing purchase and brand loyalty.
The voice-activated programme will allow DKNY to better track and continue a conversation with interested consumers to drive ongoing purchase.
Ilektra Fotopoulou, product manager at ADF Fragrances said: "While traditional sampling allows us to get into the hands of consumers on the streets and in-store, activating our advertising with voice-led sampling will allow us to reach a more targeted audience. We're really excited to be working with Send Me a Sample to get Be Delicious in front of a new, digitally-first audience."
Richard Hill, co-founder of Send Me a Sample, said: "Voice is going from strength-to-strength and becoming central to our daily lives, especially for younger generations. Through the use of voice, DKNY will be able to target those who mainly interact with brands online and offer a simple way to trial a product at home, with the ability to follow up with a highly engaged audience afterwards ."
To receive a free sample, consumers must register with Send Me a Sample and ask a voice-assistant to "Send Me a Sample of DKNY." Samples are available from 12th August for two weeks, or while stocks last.
Source: Send Me a Sample