Ford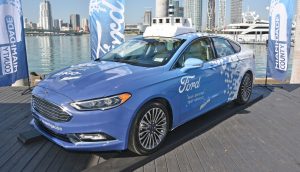 has its sights set on operating its own self-driving car network "at scale" by 2021, opting to run its own service as opposed to selling its technology to a transportation platform.
The automaker is already testing a service with Domino's and Postmates in Miami, which sees consumers offered a discount if they are happy to walkout and collect their order from an autonomous delivery car.
"Our current thinking is that we'll own the fleet, that we'll operate the fleet," said Jim Farley, Ford's global markets president, speaking to the Financial Times. "One of the most important parts of the test is the business model itself.
"The key message from Ford is we're not looking just to start then [in 2021]. We're setting up the Miami business model now so that we can scale then."
On top of the food delivery service, Ford also has pans to open its network up to small local businesses, enabling them to deliver goods to customers. The vehicle used in 2021 will be a new one powered by hybrid technology and built to work for 20 hours a day, while designed to carry both people and cargo.
Source: Lovely Mobile News