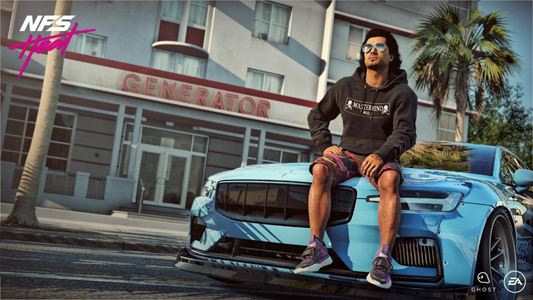 Award-winning, experience and design-led accommodation group Generator is proud to announce its official partnership with NFS Heat, the latest racing video game in the Need for Speed franchise. The game, which launched globally this month, is the 24th in the series and marks the 25th anniversary of the brand. The ground-breaking partnership marks Generator's first venture into virtual reality and the beginning of a new wave of creative marketing initiatives pioneered by the hospitality brand.
NFS Heat sends players to Palm City, a brand-new open world city based on Miami, with its blend of music, cool street art and night lights. Street racers will find custom rides and adrenaline-filled races, as well as a fictionalised version of Generator Miami, complete with its distinctive logo and unique colourways.
Alastair Thomann, CEO of Generator, commented, "For Generator, partnerships play a crucial role in shaping our brand identity. Expression, creativity and connectivity are at the core of the Generator brand and we are constantly seeking innovative collaborations with brands which harness the same values as ours. NFS Heat, which puts individual expression and customisation at the heart of its franchise, is the perfect fit for us".
Other official partners of NFS Heat include Puma, Polestar and Life's a Beach; brand affiliations which speak to the millennial mindset of Generator.
Alastair added, "Affiliations with world-class brands such as EA Sports play a crucial role in our wider marketing strategy. Generator is a lifestyle brand; we rail against restricting ourselves to brand collaborations more traditionally associated with the hospitality industry and work with brands which enable us to really engage with our target audience, an approach which has been intrinsic to our marketing strategy for breaking into the U.S. too".
The launch of this global partnership coincides with the announcement that Generator will be breaking new ground in the U.S. in reality, as well as virtual reality. Last month, the hospitality brand announced that it will now operate all four Freehand Hotels and their respective food and beverage outlets, in a $400 million acquisition led by London-based firm Queensgate Investments, marking a milestone in the brand's history and future in the U.S.
Source: Generator