Rock Face today unveils a refreshed product range, building upon their success as the UK's leading independent male grooming brand and one of the fastest growing brands in the sector. Their signature citrus fresh 'Original' and cool 'Sport' scents are now joined by a spicy 'Power' scent, which will also be available across their range of shower gels, deodorants and body sprays.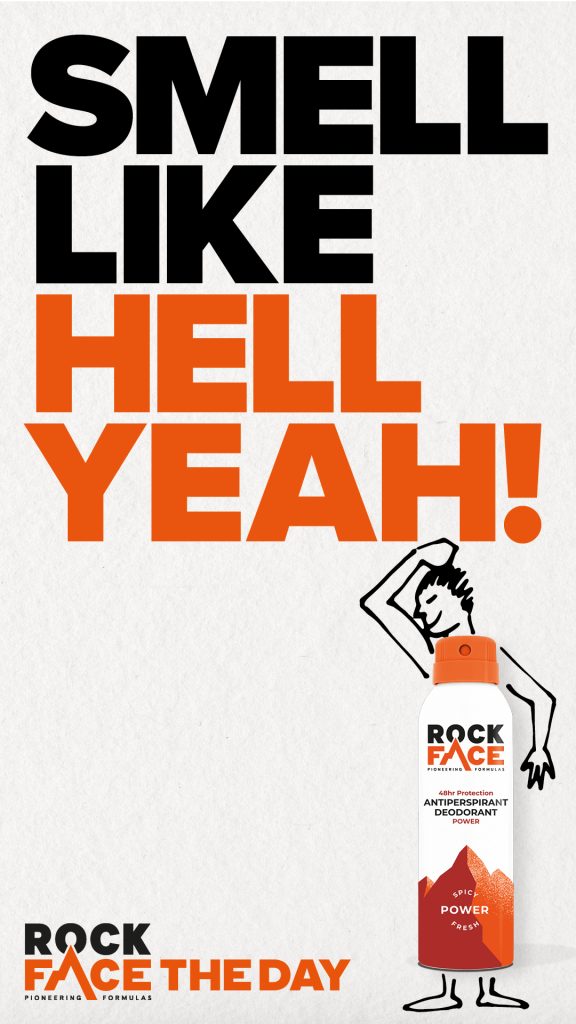 To relaunch the brand, Red Brick Road were appointed to develop a new brand platform, to convey Rock Face's unique story as a 'life hack' for men: the product range have the same great smelling scents across their hard-working, pioneering formulas.
The campaign introduces the strapline 'Rock Face the day', showcasing how Rock Face makes men ready for anything the day brings and is their energising kickstart to their day. Red Brick Road have also created a distinctive illustrated brand world featuring a personified range of Rock Face products. Campaign illustrations were developed in-house by Red Brick Road, with animation developed by Red Brick Road and Curious.
The campaign launches across Digital OOH, YouTube, Digital Display and paid social channelswith media strategy and buying by BBJ&K.
An innovative retargeting strategy sits behind the media schedule, with bespoke personas created for the target audience to maximise campaign effectiveness.
The campaign launches initially in the UK with plans for it to be extended into other growth markets for the brand including Australia, New Zealand and the US. In the UK, Rock Face is currently distributed through Tesco, Waitrose, Asda, Sainsbury's, Wilko's, Ocado, Lloyds and Amazon.
James Wilkinson, Head of Sales & Marketing at Rock Face said: "We're a proudly independent brand, and it was critical for us to find an agency partner who could bring our unique personality to life. Red Brick Road understood this immediately, and we're thrilled to relaunch our brand with them."
Red Brick Road's CEO, David Miller, said: "Our mission is to accelerate brands, so partnering with the ambitious and creatively brave Rock Face team has been fantastic! We can't wait to see the campaign out in the wild!"
Source: The Red Brick Road