Oscar-winning singer Sam Smith is backing a new report and campaign from the charity War Child UK, aiming to raise awareness and funds to support the mental health and wellbeing of children affected by war – from those who have fled the brutal violence of so-called Islamic State in Iraq, to former child soldiers in the Central African Republic, and tens of thousands more.
Sam is launching the campaign in his new role as Global Ambassador for War Child UK, following visits to the charity's programmes in Northern Iraq and on the Jordanian border with Syria earlier in the year.
In an emotional video (above), which follows his encounter with 14-year old Syrian refugee Mohammed in War Child's Jordan programme, Sam calls for the public to back War Child's Winter Appeal to help fund greater provision of support for children whose lives have been torn apart by war.
War Child's report, Reclaiming Dreams – prioritising the mental health and psychosocial wellbeing of children in conflict shows the scale of mental health psychosocial support (MHPSS) urgently needed to help children affected by conflict recover from the mental impact of their experiences and the destruction of their families and support networks. It calls for:
1% of global funding to be ring-fenced for MHPSS
International efforts to redress the lack of support currently available for children living through conflicts in Africa (such as in Central African Republic and Democratic Republic of Congo)
MHPSS to be provided to parents and support networks as well as children, and to be delivered in partnership with local communities, in order to improve the long-term effectiveness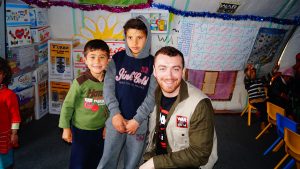 Sam Smith, War Child UK Global Ambassador, said: "When we think of the damage war inflicts, we often think of the physical impact – the buildings destroyed and the people killed. However, while this is devastating, what we too often forget is the equally devastating impact war can have on the minds of the children who live through it – impacts that many will carry through into adulthood and that can end up blighting their whole lives.
"During my visits to War Child's programmes this year, it was heart-breaking to see the number of children who have had their lives ripped apart by war, knowing that what I was seeing was just the tip of the iceberg.
"However, it was also inspiring to see the drive these children have to try and carry on, and the positive changes that War Child's work can have on their lives. We can stop these kids from hurting, and we can help them grow up to be kind, to be peaceful, to have dreams, hopes, a purpose. But we need to give them the support they urgently need to make that happen."
Rob Williams, CEO of War Child UK: "Since joining War Child as Global Ambassador, Sam has inspired us all with his passion, intelligence and sensitivity. With 250 million children in the world today affected by war, the need is as great as ever to stand up for their rights."
To donate to War Child's Winter Appeal, please visit here.
Source: War Child UK