'Change begins at home'. What better category to start this conversation than Home Appliances? With its latest International Women's Day campaign, Godrej Appliances fights subtle gender stereotypes by effortlessly marrying the philosophy of 'Things Made Thoughtfully' with the hashtag #LetsStartRight.
The film by Creativeland Asia, show a seemingly progressive household, that agrees with the mainstream belief of women empowerment and equal opportunities. The father-in-law of the house admires it even, when a positive change is seen happening in the society outside.
But when it comes to his own home, unknowingly, the stance is different. A female fighter pilot on TV is lauded, but the daughter-in-law of the house is advised to leave her corporate job and be in what is deemed to be a more 'female friendly' profession.
The film ends by seeding in a new thought, a new way of thinking with the message, "Let's start at home. #LetsStartRight."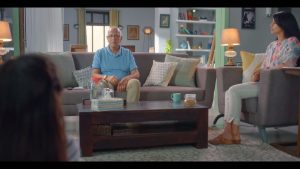 About the film, Swati Rathi, Marketing Head, Godrej Appliances said, "The thought of 'Let's Start at Home'. #LetsStartRight was born last year during children's day when we highlighted the stereotype of gender-based roles amongst children taking shape at home. We chose to carry forward the conversation on women's day. Our latest film showcases how gender stereotypes are sometimes so ingrained in our mindsets that we don't even realize the bias. This is true of even seemingly progressive families. Children are a critical element of this #LetsStartRight dialogue because they force us to rethink our biases and start afresh. Godrej has always believed in being a responsible brand and playing the role of a change-agent for our country and society. We hope this film inspires people to introspect for themselves and change for better."
Speaking about the campaign, Anu Joseph, Chief Creative Officer, Creativeland Asia, said, "Godrej Appliances, as a brand, has been at the forefront of social change from the day it launched refrigerators in India more than 6 decades ago. It liberated women from having to cook three meals a day, and therefore being unable to step out to work. Women, even today, continue to face little prejudices at home. Sometimes, these discriminations are veiled. Sometimes, they are even made to sound like a good thing. This film tells a moment of truth story about one such hidden prejudice in a typical Indian home."
Source: Creativeland Asia