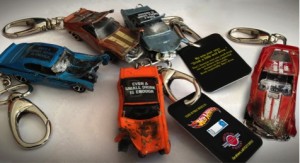 Ogilvy & Mather Mumbai studied the views and opinions of drinkers and from their discussions drew an insight – almost every drinker believes that it is absolutely safe to drive after a drink or even two drinks.
The medical reality though is that even a single drink can impair the senses of the driver and this fact is dismissed by most as trivial. A single drink can put the driver at grave risk as well as friends and family members traveling in the car he/she drives.
Abhijit Avasthi, National Creative Director O&M Mumbai said, "Drinking & driving messages can get too preachy. This is a fun way of reminding us of the consequences of drinking and driving. A simple idea with a strong message!
"Hot Wheels along with 'The Little Door' (a pub) and 'Party Club Drivers' (an after-party driver service) decided to do something unique to spread the social message 'Don't Drink and Drive'."
"We wanted to impress this fact upon people but when they were least expecting it – this was the idea. So on a Friday evening with the support of our partner pub, The Little Door, we laid the emphasis on this social message to people who were most likely to be casual about driving back after a few drinks."
When car owners arriving at the pub handed over their car keys for the valet to park, they attached specially designed key chains to the owners' car keys. The key chain attached had a damaged Hot Wheels car (depicting a car that's recently been in an accident) with a message that read, "Even a Small Drink Is Enough". Attached with the keychain was a tag that had the phone numbers of the Party Club Drivers.
When the car owners were exiting, they were handed their keys with the attached Hot Wheels key chain that carried the social message. This shocked and alarmed the drivers as the visual impact was powerful. But most importantly, the reaction was positive. Many decided to call the driver service to drive them home and some called friends and family to pick them up.
The Hot Wheels message was driven right home: Drinking, no matter how less, should never be mixed with driving. Having this keychain attached to their car keys will remain a constant reminder of the risks of driving under the influence of alcohol, reiterating the message: Even a small drink is enough. Don't drink and drive.
Rahul Bhowmik, Director-Marketing, Mattel Toys India said, "Hot Wheels is well-known for epitomizing 'thrilling vehicle experiences' for boys of all ages. With this unique initiative we wanted to reinforce that pushing the envelope can be exhilarating, but it never pays to ignore the #1 rule of road safety: don't drink and drive."
Ajay Mehta, Vice President O&M commented, "What better than a brand like Hot Wheels that stands for speed, performance and thrill has taken responsibility to spread a message of 'Don't drink & drive'. A complete surprise for pub crawlers."