HSBC is marking Black History Month with a global creative campaign celebrating textile traditions from African and Caribbean cultures, created by Wunderman Thompson UK.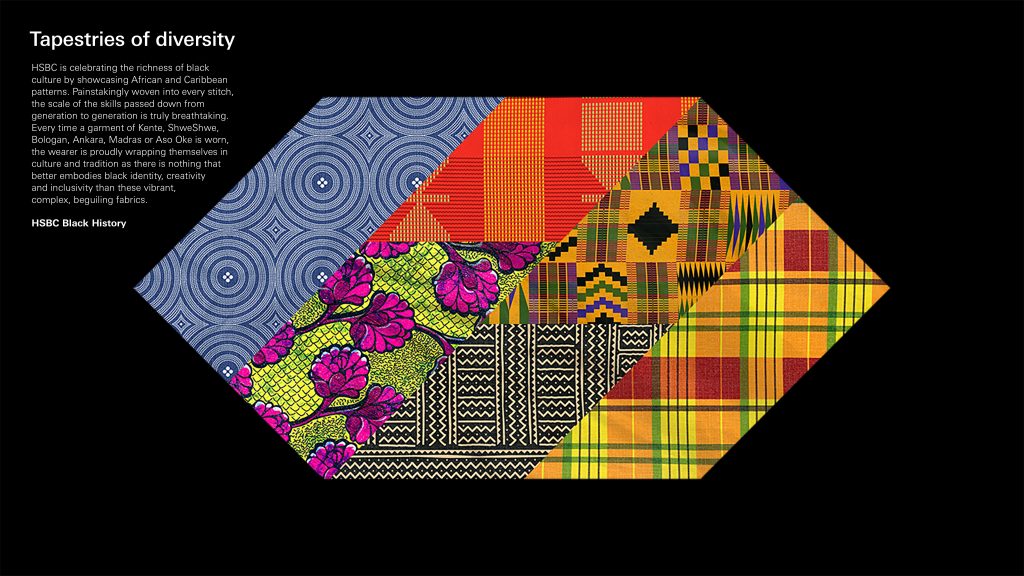 Tapestries of Diversity takes six types of fabric as a starting point to amplify Black creativity, culture and heritage. Wunderman Thompson UK has written the story of each textile and selected a pattern which epitomises it to be used in a suite of assets, as well as creating a single design incorporating all six of the patterns.
The purpose is to celebrate the identities, colours, rhythms and traditions of each fabric and at the heart of it, is telling the stories of Black people. The assets are being used across a variety of HSBC media, from Zoom backgrounds to email headers and banners. HSBC is also sharing the textiles and descriptions in social media posts.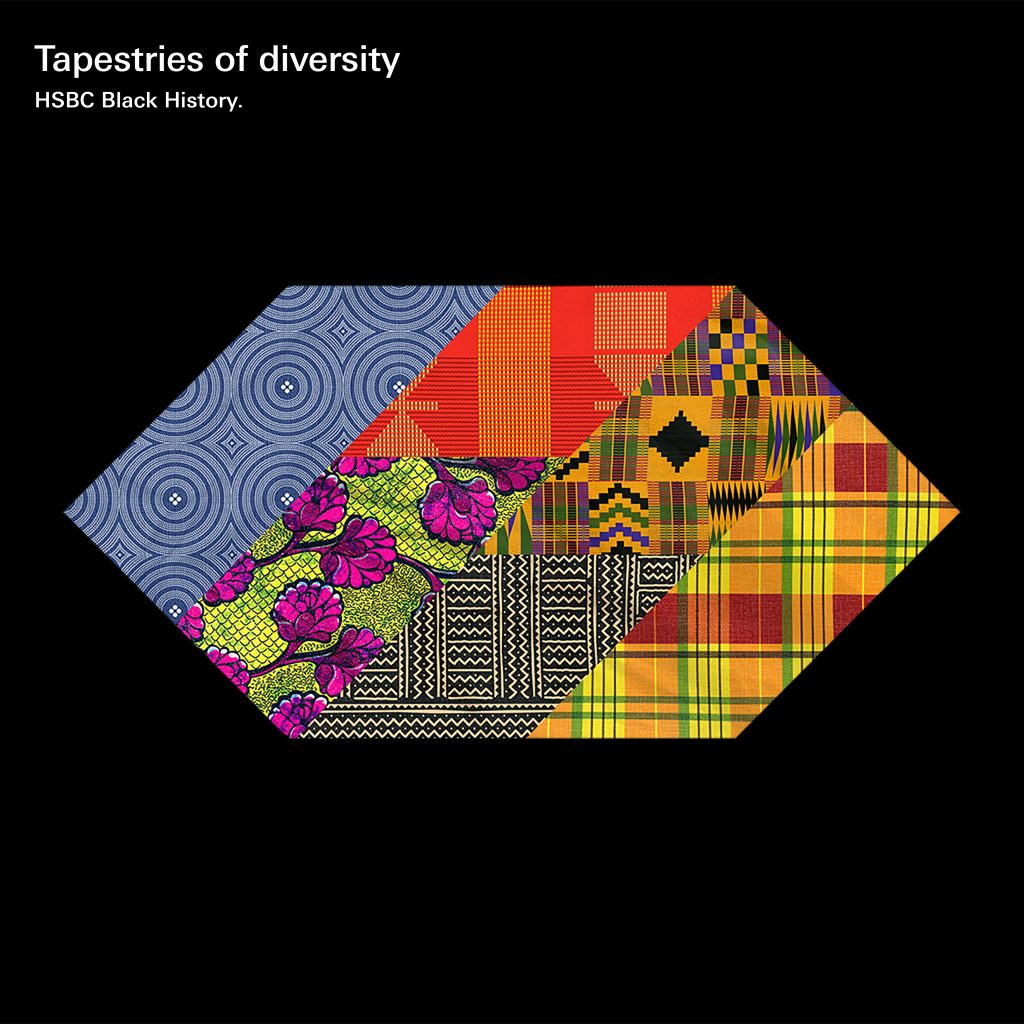 These six textiles featured are:
● Kente, a Ghanaian textile originally inspired by a spider's web, and made of handwoven cloth, strips of silk and cotton.
● Shweshwe, the traditional fabric of southern African clothing. It was gifted to Lesotho's King Moshoeshoe I in 1840 and originally dyed only in indigo.
● Madras, a fabric which features in the national attire of Caribbean countries including Dominica, Jamaica and Saint Lucia.
● Aso Oke, meaning 'top cloth' to denote its high quality, is designed and hand-woven by the Yoruba people of west Africa.
● Bogolan, also known as mud cloth, is a sustainable handmade cotton fabric traditionally dyed with fermented mud, produced by the Bambara tribe of Mali.
● Ankara is commonly worn by people in Uganda, Tanzania, Kenya and Sudan. It is called 'the communicating textile' because of the various colours, patterns, writings and symbols which represent moods, feelings, cultures, and many traditions of the designers.
Rianna Woods, Art Director at Wunderman Thompson UK, said:"The influence and beauty of these fabrics is undeniable but even more so is their history. While they've become commonplace in some cultures around the world, not everyone is aware of the stories behind them. Embedded with tales, secret messages and symbols, every pattern gives you an intimate insight into social, religious, historical and political contexts of its origins. Skills that are passed down from generations, traditions that still live on and garments worn so effortlessly is what makes these fabrics truly breath-taking. It's so brilliant that HSBC is marking Black History Month with this campaign, amplifying the stories of the people who created them and the diverse cultures from which they emerged."
Jonathan Castleman, Group Head of Brand and Brand Partnerships at HSBC, said: "Each of these patterned textiles carry their own stories of expression, fashion, history and communication, so Wunderman Thompson's inclusion of them in our Tapestries of Diversity has a real beauty to it. It's a privilege to be able to feature them during Black History Month, and by doing so to help amplify awareness of the Black cultures behind them."
Source: Wunderman Thompson UK