Would you watch football if injured players were shot by medics after a match? So why support horse racing?
This is the question posed by an animal welfare charity in a hard-hitting film highlighting the number of injured horses destroyed by vets on race courses.
The League Against Cruel Sports film – released in response to the recent horse killings at the Cheltenham Festival – shows an injured player being shot dead after a football match.
88 horses have been killed on Cheltenham Racecourse since 2008 – ten of these in 2018. And more were executed in 2019.
Chris Luffingham, Director of Campaigns at the League Against Cruel Sports, said: "Hundreds of horses are seriously injured and killed on British racecourses each year – and for nothing more than a flutter. If footballers were shot following injuries on the pitch, there would be an exodus of people from the sport – so why not the same when horses are needlessly killed at the hands of the racing industry? If the animals aren't killed on the racecourse, they're often carted off to the slaughterhouse to be turned into cheap meat."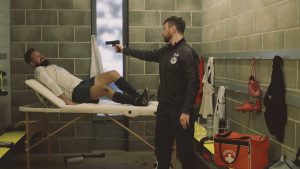 There have been 1,522 horse racing fatalities at British racecourses in the past ten years according to Animal Aid's Racing Horse Death Watch website.
Around 1,000 horses from the racing industry are killed in slaughterhouses in Britain each year, according to the British Horse Racing Authority.
Broken necks, backs and legs are commonplace on British racing tracks, where horses are whipped to make them run faster and jump over dangerous obstacles. The pressure inflicted on their bodies during the race can lead to painful gastric ulcers and bleeding lungs.
Chris Luffingham added: "We're calling for a ban on national hunt racing because of its terrible safety record. We're also calling on everyone who cares about animal welfare to simply stay away from racecourses across Britain."
The film, made by new director Al Brown, was filmed on Hackney Marshes, spiritual home of England's Sunday football. The League will be showing the film on a digital ad van in Cheltenham ahead of the festival's 'Gold Cup Day' finale.
Source: The League Against Cruel Sports