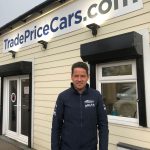 Multi-award-winning used car dealer – Trade Price Cars – is hoping to shake up the industry's approach to customer communications throughout 2020, with an investment in state-of-the-art marketing technology.
Wary of the batch-and-blast approach commonly adopted by automotive brands, this year is all about personalised communications that will enhance the customer experience, stresses founder Dan Kirby.
The fast-growth business has therefore invested in marketing automation from Force24, as it gears up for growth over the next 12 months.
This platform will enable Trade Price Cars to power thousands of ultra-personalised conversations on a monthly basis, with the right message, tailored to the right customer at the right time. Blending email marketing with LinkedIn and SMS functionality, the goal is to even utilise individuals' preferred communication channel too.
With final API integrations now underway, campaigns will be created for both new and existing customers, as well as clientele for its British Touring Car Championship team and prospective sponsors of Trade Price Cars Racing.
Keen to be a disruptive brand since the organisation was established in 2013, Essex-headquartered Trade Price Cars has grown to become a multi-award-winning business in the sector and well known for its approach to customer service.
Marketing Executive James Finch-Knightly elaborates: "Dan is extremely innovative in his approach to business, specifically in this space. That's one of the reasons we've grown quickly while ensuring the customer remains at the heart of everything we do.

"2020 is about building even more momentum for our 40-strong company, and one way to further our expansion while keeping things personal for the people we're here to serve, is by sending them only the content they want or need to receive.

"Force24 has opened our eyes to what's possible – with both marketing and data – all within one platform. Everything is GDPR compliant too which is a massive tick-box in a highly-legislated, customer-driven market. I expect the platform to have paid for itself after the first send!"
Force24 is one of the fastest-growing UK built and managed marketing automation platforms in the market, currently sending upwards of 15 million emails for clients, every month.
Source: Force24