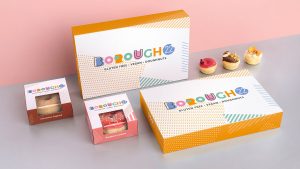 Jackdaw Design, an independent branding and packaging design company in London, has designed a new brand identity for Borough 22, an award-winning London bakery specialising in handmade gluten free vegan doughnuts.  
For the rebrand, Jackdaw Design has created a flexible visual language that takes inspiration from the doughnuts themselves. Lively spotty patterns inspired by the ingredients, such as cinnamon and icing sugar, are mixed with stripes, waves, zig-zags and geometric shapes to represent each flavour. The colour palette is bold, expressing the personality of each doughnut and the vibrancy of the range.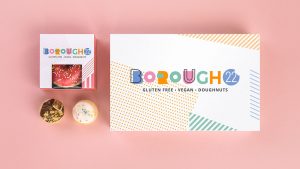 A distinctive logo features the brand name set in different typefaces, and extra details include the circular holding shape with a bite taken out of it for the number 22 – just like a mouth-watering doughnut.
Jackdaw has designed three different box sizes: small (individual doughnut), medium (half a dozen) and large (a dozen), along with a seamless pattern greaseproof paper that sits snuggly within the box. A premium paper bag has also been designed, which comfortably holds the boxes and ensures the doughnuts are delivered in a fresh-out-of-the-oven condition.
The evolved identity and packaging appeals to a wide audience and drives awareness of the doughnuts' unique and exciting flavour combinations.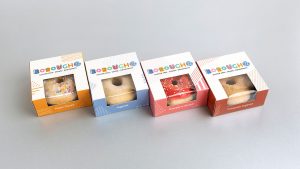 Jackdaw Design founder and director, Amanda Jackson comments: "With the UK free-from market growing year on year and now worth £837 million, more and more food products are competing in this space. It's important for Borough 22 to stand out and be memorable. Our job was to help create and deliver an impactful and coherent identity for the range which could easily be extended from packaging, to in-store and online."
Borough 22 founder, Ryan Panchoo: "This packaging was a game changer for us. After four successful years this has taken our brand up another notch. And since the rebrand, sales in Selfridges have increased by an incredible 55%. Right from the start, Jackdaw Design understood what we could achieve and knew how to get us there."
Source: Jackdaw Design