Jaypore, India's craft based designs, has unveiled its #SelfiWithDidi (Selfie with Sister) digital campaign.
The campaign aims to recognize and appreciate the versatile and invaluable contribution of the household help in India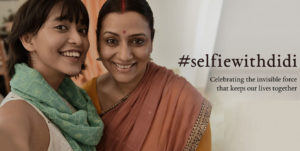 Puneet Chawla, CEO and co-founder of Jaypore.com, said: "In India, because of the income disparities, household help is often neglected and denied the respect they deserve. With #selfiewithdidi, we wanted to give ourselves and everyone a chance to surprise and thank them for their invaluable importance to us. This initiative aims at reminding people of the crucial role these women play in our daily lives."
The concept launched as a heart warming video, starring actor Sayani Gupta, across Jaypore's social media platforms.
The video shows a woman's special relationship with her didi (sister) and along with the video message, Jaypore will be sending small gifts to accompany every order shipped to its customers until 31st July, a 'pair of exquisitely handcrafted earrings for the special woman to show her how much you care'.
Source: The Drum