Pioneers in healthcare innovation, LetsGetChecked, launches 360-degree customer care journey, CarePathways™
Creative addresses universal truths surrounding the barriers to healthcare and getting help
Leading virtual healthcare company LetsGetChecked and global agency VCCP New York launched on September 8th. 'Care Can Be This Good,' an integrated brand campaign designed to drive awareness of its virtual care experience alongside its three hero at-home testing products for sexual health, thyroid and cholesterol.
Tapping into the shift in attitudes to at-home medical testing, the campaign was created to cater to the overwhelming behavioural movement towards telemedicine and at-home healthcare which has become normalized and more routine for people due to COVID-19.
Valued at more than $1 billion, LetsGetChecked is pioneering virtual care with an end-to-end model including manufacturing, logistics, lab analysis, affiliated physician support, and prescription fulfilment. The at-home testing and health insights company operates a seamless user experience and a convenient, reliable, and secure healthcare service. It has experienced exponential growth during the pandemic due to its COVID-19 testing facilities, recording +1500% year-over-year growth since March 2019.
LetsGetChecked provides direct access to telehealth services, pharmacy, and laboratory tests with at-home sample collection kits for a wide range of health conditions including Sexual Health, Cholesterol, Diabetes, Thyroid, Coronavirus (COVID-19), and more.
Launching with four TVCs, VCCP New York worked with Irish director, Lena Beug, who afforded the natural connection back to the company's proud Irish heritage. Lena, based in Brooklyn, NY directed the hero 30 second brand film and three product films which address some of the most common health issues and conditions in the US with a virtual care solution offered by LetsGetChecked: Sexual Health, Cholesterol and Thyroid.The hero brand film depicts a series of familiar medical situations faced by patients daily, all whilst highlighting the restrictions of traditional healthcare. Posing the all-too-common questions 'Couldn't I do this from home?' and 'How long do I need to be here for?' Positioned as an easy and convenient solution,
the creative cements LetsGetChecked as an answer to healthcare accessed from the comfort of home. The three product films aim to showcase the pains consumers face day in and day out regarding the healthcare system.
The modern medicine campaign aims to reach a mainstream audience in the USA and broaden their customer base, targeting US adults between the ages of 25 – 54 who are tired of a traditional healthcare system which is littered with inconvenience. 'Care Can Be This Good' allows Americans to be in control of their health with healthcare options that are built around how they live.
With a staggering 60% of the 20 million Americans suffering with thyroid issues unaware of their medical condition, illnesses like this left undiagnosed can often result in much more serious conditions such as cardiovascular disease, osteoporosis and infertility. Similarly, high cholesterol, which again affects a large proportion of US adults, is routinely asymptomatic too. Education and the delivery of healthcare is therefore very much at the forefront of the LetsGetChecked mission. Alongside the release of their Thyroid test, LetsGetChecked are also releasing their Thyroid CP in Q4 this year. 
Over the last year, LetsGetChecked has supported the global drive for at-home COVID-19 testing. Now conscious of rising patient waiting lists, hospital delays, and a universal frustration with traditional medicine and self-testing norm. This is what makes 'Care Can Be Good' the campaign of the moment.
Commenting on the campaign, Ray Del Savio, Executive Creative Director VCCP New York added, "Great ideas need a universal truth and there are few truths more universal than the hassle that is going to the doctor. The paper gowns alone are enough to put it off for another day. We took these undeniable truths and created a campaign that we hope will leave people saying, "YES! I have totally been there! We've loved working on this campaign, and partnering with future facing brands like LetsGetChecked is what makes us tick. It's hugely exciting to be a part of something from the very beginning and the ambition and energy of a tech startup like LetsGetChecked has matches perfectly with our own startup culture here at VCCP New York."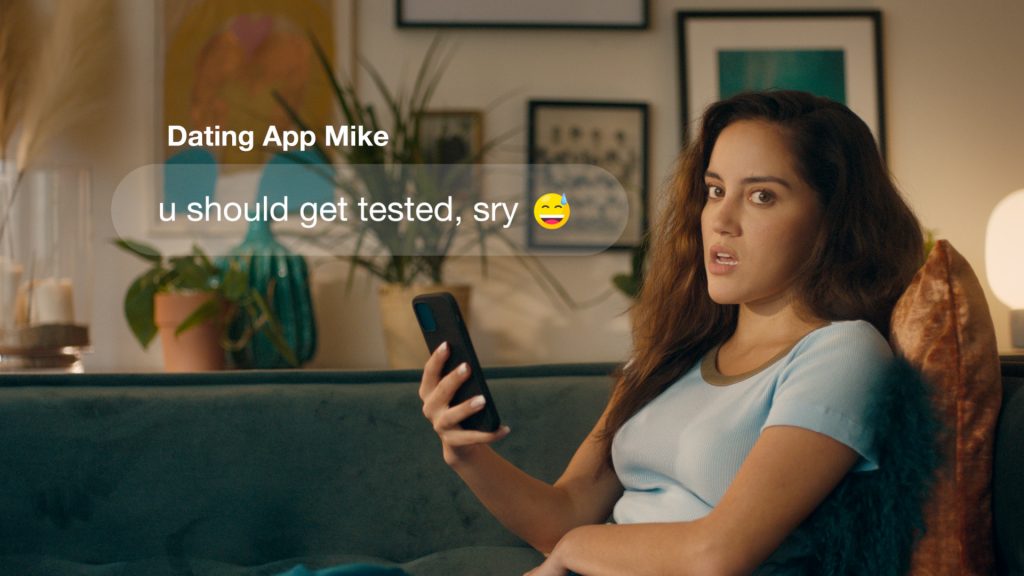 Peter Foley, Chief Executive Officer and Founder of LetsGetChecked added, "We are seeing unprecedented demand for at-home diagnostics and care as an alternative to traditional in-person medical visits. We are committed to expanding our offering to help people live longer and live happier lives. It's exciting to be at the helm of health service innovation, bringing modern medicine into the 21st century.'
The campaign will run from 8th September until December 31st and will play out across TV, OTT, CTV with 15" and 6" cut-downs of the film airing on several U.S. broadcast networks, as well as streaming platforms including Apple TV, Roku and Amazon Fire. The campaign will also feature digital, social and radio. Media has been planned and executed by Canvas Worldwide.
Source: VCCP