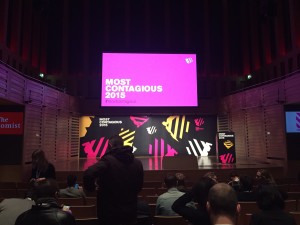 Most Contagious is an annual, uniquely curated innovation event in London staged by Contagious Communications. It celebrates the biggest innovations and analyses the most impactful marketing from the year to decipher what influence these will have on the immediate future for brands and advertising.
On 9th December, we at MarComm News managed to nab a ticket for the latest edition of the conference and after marinating in what we experience in the daylong event, here is our round up of Most Contagious 2015:
Opening Gambit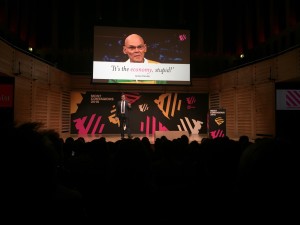 Contagious co-founder Paul Kemp-Robertson kicked things off by recapping the events that shaped the cultural landscape over 2015. It covered recurring data breaches, downward-spiraling economies and the potential threat of artificial intelligence.
But 2015 was not all doom and gloom. Nick Parish, editorial director, Americas pointed out that there is a new Star Wars film in cinema NOW for heaven's sake!
He also reminded the audience of the power of communications, and how the marketing industry can be used to create and shape meaningful movements that affect positive change on the real world.
Morning Session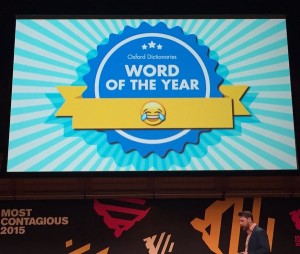 The morning session largely dealt with communication and the evolution of it.
Dr. Bernie Hogan of Oxford Internet Institution spoke to us about emojis and how the cute characters have taken the world by storm. He asked: 'Are emoji a language in their own right? concluding that while they aren't a language, they are language, and they are here to stay.
Another speaker, Slack's Anna Pickard, also highlighted how brands can stand to be more human. Enthusiastically parsing the power of courtesy, empathy and authenticity.
"Empathy" Word Of The Year #MostContagious https://t.co/efBchsUOFp

— Les Gaulois (@LesGauloisParis) December 9, 2015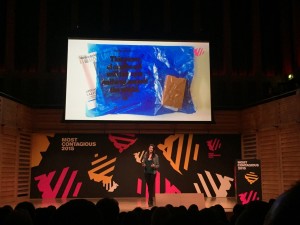 Contagious senior writer Lucy Aitken explained how brands could win by targeting customers in unexpected environments, away from where their competitors. She compared the strategy to the central message of Blue Ocean Strategy, quoting: 'Don't compete with rivals, make them irrelevant.'
The morning session ended with a look at Virtual Reality (VR) and how close it is to being adopted by the mainstream marketing and advertising industry.
Contagious' Emily Hare pointed out that VR headsets are not too hard or expensive to get hold of these days, as well as, the increasing ease of creating 360 degree content. Framestore's executive producer, Christine Cattano, summed up the chat on virtual reality by saying: "VR is a user-first medium. You have to be able to offer an experience that suspends the audience's disbelief. Imagination is key to that."
Most Contagious Debate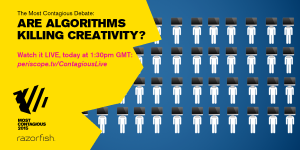 Over lunch Contagious Insider's Will Sansom chaired a debate sponsored by Razorfish, asking 'Are algorithms killing creativity?' Razorfish's own Daniel Bonner, Leo Burnett's Giles Hedger, and Oliver Gers from Starcom MediaVest discuss the provocation, with all three emphatically dismissing it.
Giles was first up and argued that as an industry, we are killing creativity through a misinterpretation of algorithms.
Next up was Oliver, who explained that algorithms are here to stay, but by working creatively with them rather than fearing them, we can find better solutions to marketing problems.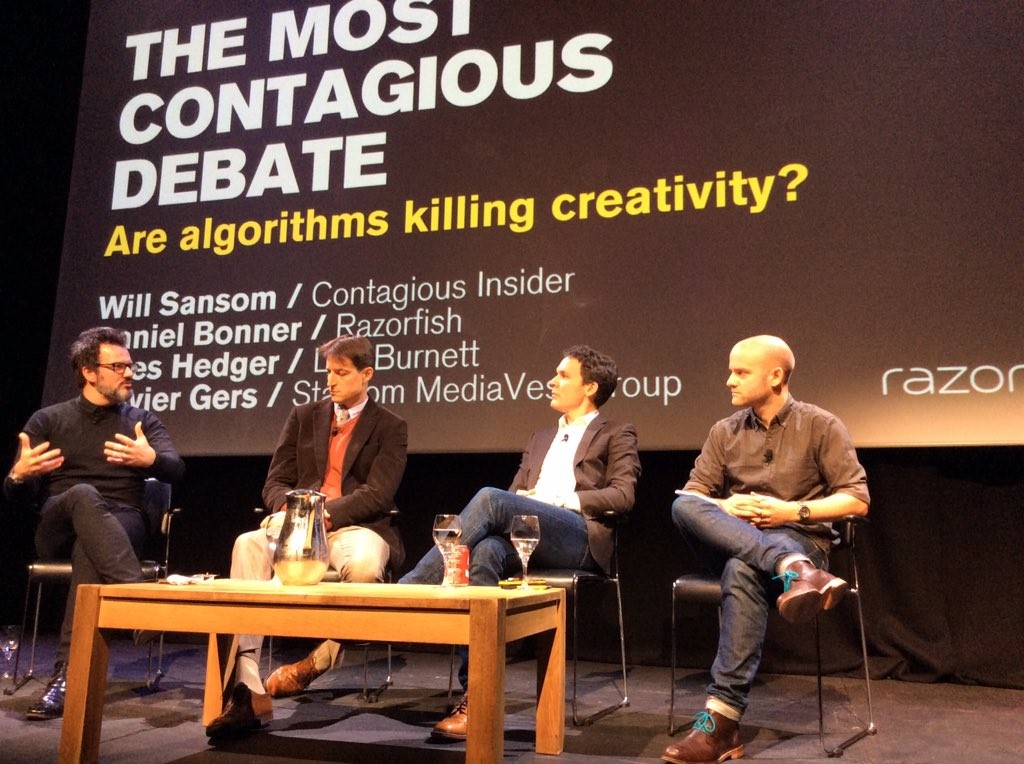 Finally, Daniel spoke about how algorithms create extraordinary opportunity, allowing marketers to progress from a storytelling mind-set to creating interactive and contextually relevant ways of connecting with consumers.
Most Contagious Brands of the Year
In our opinion the best presentations of the day were given by the two 'Most Contagious Brands of the Year'.
Grey London's Nils Leonard spoken on behalf of Volvo and their award-winning work together for Volvo LifePaint, a reflective spray that can help keep cyclists safe when riding home at night. He shared how the concept would never have happened without a brave client partnership, as well as a sense of frustration with the traditional advertising model.
"Make things that actually matter". Awesome talk by @nilsleonard on @VolvoCarUK and life paint #MostContagious pic.twitter.com/2te17MuMET

— Lars Bjørnbakk (@larsbjornbakk) December 9, 2015
Dominos Pizza's Dennis Maloney and their agency partner CP+B's Andrew Lincoln gave the second 'Brand of the Year' presentation.
The duo showcased Domino's 50-year journey from being a pizza company 'who gradually lost customers due to an inferior product' to an eCommerce company that happened to sell pizza with over $2 billion worth of digital sales. And they did it all by publicly admitting their flaws and then addressed them.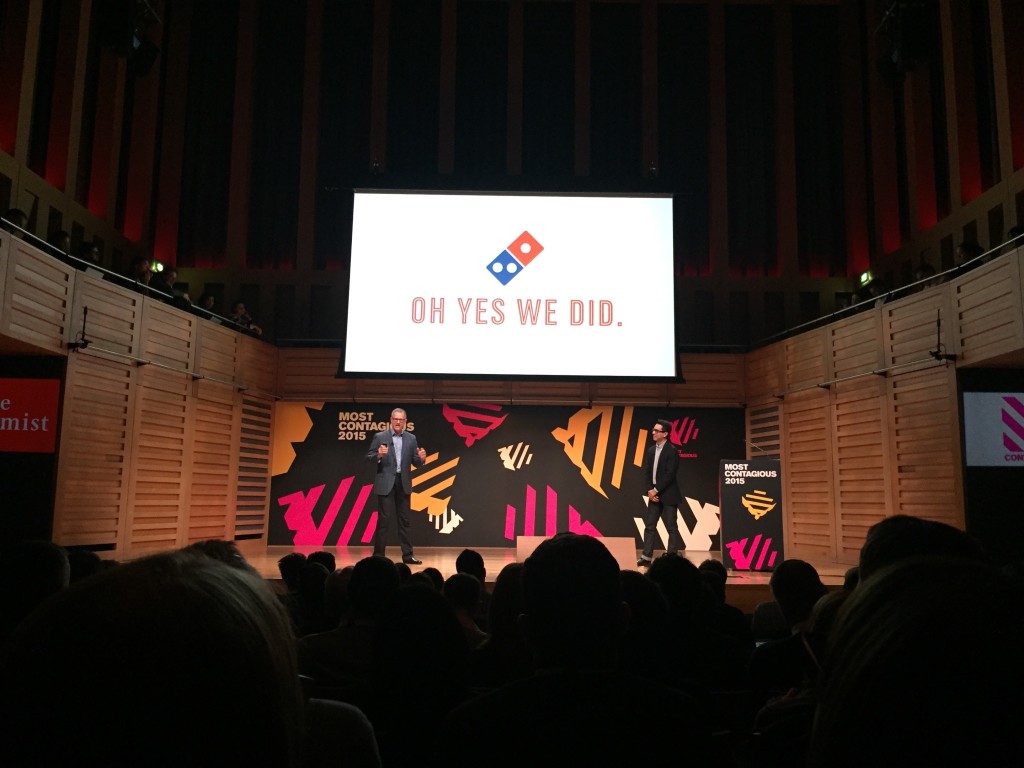 Afternoon Session
Apart from the Dominos presentation the afternoon's other highlights included Contagious' Alex Jenkins talking about the 'Dangers of Anti-Creativity'.
"Creative work is considerably more effective than non-creative work." @a_j #mostcontagious pic.twitter.com/B3sJcIZAc1

— Simon Kemp (@eskimon) December 9, 2015
And Most Contagious' media partner The Economist, who's Robert Lane Greene gave a preview of their upcoming 'World In…' series for 2016.
Evening Session
The day's final session focused on Mobile and Artificial Intelligence (AI).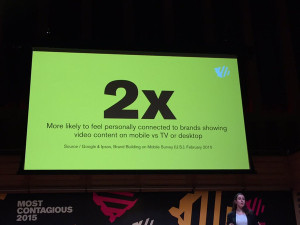 Contagious deputy editor Chloe Markowicz shared how mobile video has seen double digit growth on both smartphones and on tablet in 2015, attributing the change to better data, bigger devices and better content. She argued that with major brands adopting the medium; mobile is something the marketers can't afford to ignore anymore.
Chloe's colleague Patrick Jeffrey was the next speaker and spoke about a topic he has spent much time on researching in 2015 – Artificial Intelligence.
He focused an area of AI that prompted millions of dollars of investment by the world's biggest tech giants 'virtual personal assistants' and how the uptake of these digital assistants is set to skyrocket.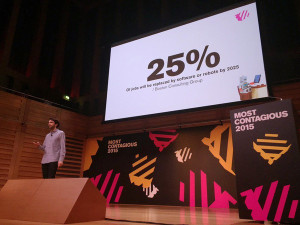 Patrick warned that if the virtual personal assistants start making low-level decisions for us then the role of marketing would shift to marketing towards an algorithm, and this is a fundamental shift that brands and agencies must consider in 2016.
Goldsmiths University's Dr. Chris Brauer followed Patrick, and explained how AI is aiming to increase economic outputs so that we can 'master the fourth industrial revolution'.
Amongst other implications, Brauer outlined how the rise of AI could negate the field of behavioural economics, as computers aren't subject to the same irrational biases as humans.
Small But Perfectly Formed Award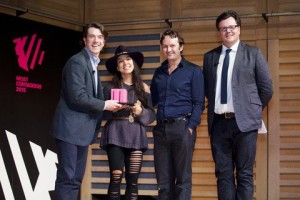 The awarding of the Most Contagious start-up of 2015 concluded the evening. The nominees were as follows:
And the Small But Perfectly Formed (SBPF) Award for 2015 went to Thinx, a company that creates period-proof underwear and is doing their bit to help break the taboo surrounding menstruation.
Reactions
Cheers @contagious #MostContagious you've been awesome pic.twitter.com/jeZK3kJTRh

— Dom Baker (@domlostejon) December 9, 2015
Phenomenal content this year. Totally relevant. Total on point. Well done @MostContagious. See you for the 2016 edition. #MostContagious

— Alex Blaney (@hitono) December 9, 2015
Another excellent Most Contagious – maybe the best yet. #literally #mostcontagious Thanks @contagious

— Sam Battams (@sambattams) December 9, 2015
Article by Editorial Team @ MarComm News