Global sexual wellness brand Lovehoney is running outdoor adverts in key location across London after winning the creative space in Ocean Outdoor's Crucial Creative Competition.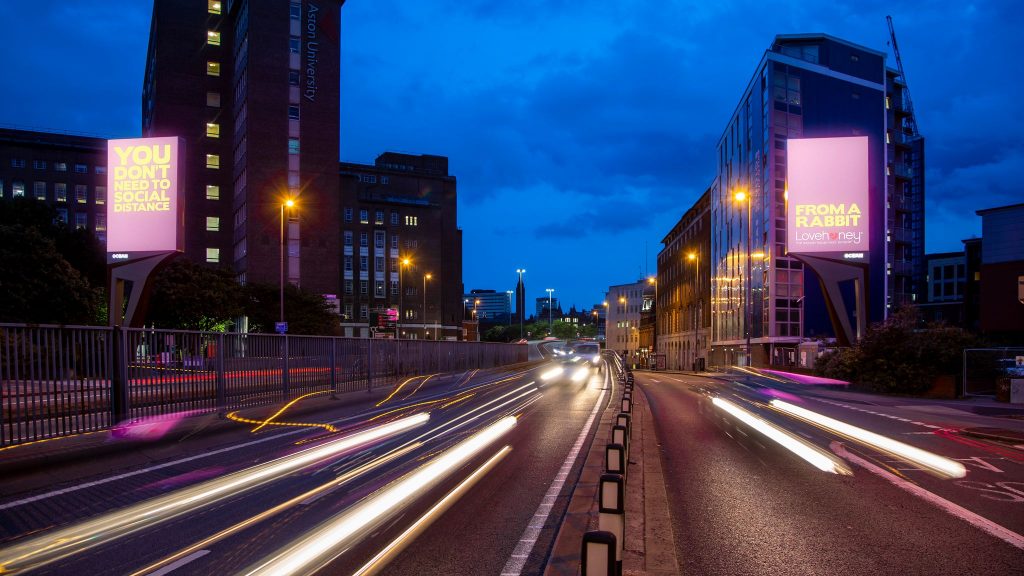 The 'Light Relief in Lockdown' campaign was created for Lovehoney by Brave.
The two week campaign runs from now until September 8 on digital display boards located at the busy Gypsy Corner junction of the A40, the Holland Park Roundabout next to Westfield Londonshopping centre, Meridian Steps and Northern Ticket Hall at Westfield Stratford, Hammersmith Broadway, the Eastern Lights on the A13, High Street Kensington and the Two Towers at Canary Wharf.
The campaign was praised by competition judges for combining great copywriting with an obvious understanding of the consumer, based on good research.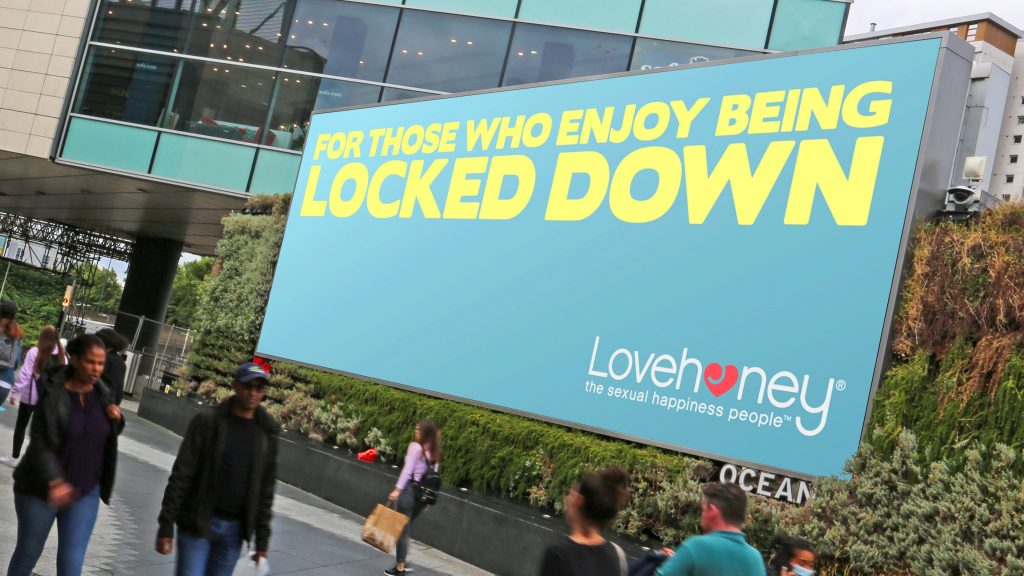 Phil Hall, Ocean Outdoor joint managing director, said: "Focusing on the new vocabulary of social distancing, lockdown and masks, Brave has linked this to Lovehoney's range of products to raise a smile. Acknowledging that some may find it risqué, the judges felt it was both cheeky and grown-up without appearing smutty or crass, leaving the viewer to find the joke by letting the logo do a lot of the work."
Helen Balmer, Lovehoney brand and marketing director, said: "Our aim was to create a message/campaign which not only raises a smile, but also conveys that sexual happiness can support our overall wellbeing during these unprecedented times."
Lovehoney was one of three joint runners-up in Ocean's Crucial Creative Competition. Winners Innocent Drinks won £500,000 of screen space for first prize.
The competition was organised to help rally advertisers, agencies and communities as Covid-19 began to ease.
Client
Head of Marketing: Elaine Sosna
Marketing Director: Helen Balmer
Agency
Copywriter: Drew Haselhurst
Art Director: Dipesh Mistry
Creative Director: Caroline Paris
Creative Director: Paul Pearson
Design Director: Lee Robins
Designer: Rupert Knowlden
Animation: Rokabye Studios
Account Director: Charlotte Gladwin
Business Director: Claire Knowles
Producer: Zara Montagu-Leon
Source: Ocean Outdoor