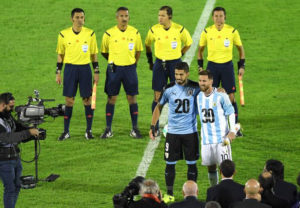 Minutes before the start of the 2018 FIFA World Cup South American's qualifiers match, between Uruguay and Argentina on August 31, the audience could see Luis Suarez and Lionel Messi, respectively the captains of each country's national team, entering the football field wearing jerseys with the number 20 and 30.
Buenos Aires based agency, Mercado McCann, was behind this idea, created for Iniciativa 2030 a binational pool of companies and institutions that are lobbying for the joint bid of Uruguay and Argentina to co-host the 2030 World Cup.
2030 also marks the celebration of the tournament's 100 years, which first took place in Uruguay in 1930. Uruguay was also the inaugural winner of the premier football tournament.
The agency led by Martín Mercado and Fernando Sarni presented the idea in Uruguay to the members of Iniciativa 2030, the Sport Secretaries of each nation and the head of FIFA, Gianni Infantino. The initiative had worldwide repercussion throughout media coverage.
Source:Â Mercado McCann