Kelly Brook, the model and TV presenter, has starred in two Turkish ads as part of a campaign to promote Unilever-owned Lynx's Apollo fragrance.
The first ad is set in a space ship and starts with Brook waking up before dousing herself in Lynx, known as Axe outside the UK.
She sets course for Istanbul, and after a spot of sunbathing on board the craft in a gold bikini, she dons a skin-tight space suit before taking a couple of selfies. Once the space ship reaches its destination, she runs over to kiss an astronaut as he climbs on board.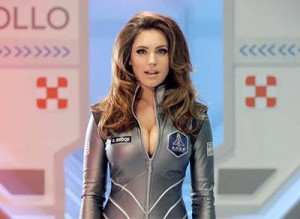 The ad is part of the Lynx Apollo campaign, fronted by astronaut Buzz Aldrin, which will give one lucky winner the chance to go to space.
The winner will be selected from four finalists who were chosen in July and have been flown to Florida to experience what it is like to be an astronaut and to fight for the ultimate prize.
The second ad featuring the glamour model starts with a man getting ready in the morning, spraying himself with Lynx while staring at a poster on his cupboard of Brook lying seductively on the bonnet of a racecar.
The man opens the cupboard door and walks into a real-life version of the poster. As he enters, Brook walks over to him and, after inhaling his Lynx scent, offers him the keys to drive off in the car with her.