A new digital ad campaign from Macmillan Cancer Support designed to highlight the threat to the future of cancer care in the UK kicked off nationwide on October 23.
#SaveOurSupport is the first piece of work for the charity from Wax/On, who won the business following a competitive pitch earlier this year, in a process facilitated by Creativebrief.
The campaign is aimed at raising donations to help Macmillan Cancer Supports' services be there for more people affected by cancer, and is calling on governments across the UK to urgently address the staffing crisis facing the NHS and social care.
One in two people will be diagnosed with cancer in their lifetime, and yet many aren't getting the support they need. With the number of people diagnosed with cancer on the up, Macmillan is not able to reach everyone who needs its support.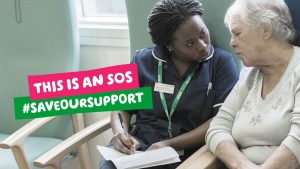 Macmillan's professionals can help make sense of the confusion of a diagnosis. Its Support Line team can listen and shoulder the burden that people don't want to put on their loved ones. Its expert advisers can help people cope with worries about money or work. Macmillan wants everyone with cancer to live life as fully as they can, but they can't do this alone.
The digital campaign calling for support has been created and produced by Wax/On, with social films, email and other digital assets driving to a Facebook Fundraiser Page. It is just one part of the broader appeal by Macmillan, which includes PR and calling on governments across the UK to tackle the issue.
Anna Riley, Marketing Manager at Macmillan Cancer Support said: "The number of specialist nurses and cancer support staff in the UK is a very real problem and needs highlighting as a matter of urgency. Save Our Support will bring the matter to the attention of the public to raise money so that we can continue to provide the level of help that can make such a significant difference to those living with cancer."
Source: Creativebrief